Australian Edge data center company Edge Centres has acquired local rival DC Matrix.
Like Edge Centres, Queensland-based DC Matrix was a relatively new Edge player in Australia. The company was planning to develop six facilities across the state in areas such as Sippy Downs, Townsville, and Cairns.
"Happy New Year, and what a great start indeed! We are proud to announce our first acquisition of 2022 - DC Matrix," Edge Centres CEO Jonathan Eaves said on LinkedIn. Terms of the deal were not disclosed.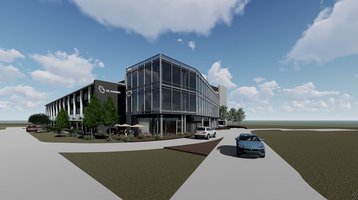 The company was reportedly self-funded and looking to develop office space alongside the data centers on greenfield sites it can buy rather than lease, and that can accommodate solar infrastructure to power the facilities.
Edge Centres said it acquired DC Matrix because the company's mission statement, ethos, leadership experience, and assets were "a perfect fit for Edge Centres' key values and priorities."
With the acquisition, Edge Centres acquires two facilities currently in development in Sippy Downs, Queensland, and on the Gold Coast; work began on October 2021 and both are due to come online late in 2022. The Gold Coast facility, a 3.4MW data center known as EC20, will be the company's largest once live.
DC Matrix's Chief Digital Infrastructure Officer Adam Gibson will join Edge Centres as the company's new Chief of Operations for Australia.
"It's great to have two private Australian businesses going forward together, working in harmony to create synergies for the future of the country's edge data center industry," he said. "The acquisition is going to enable both existing partnerships and new opportunities for Edge Centres to double – or even triple –in the next five years."
"Leveraging DC Matrix's facilities, partners, staff, expertise, and other assets – including the sites north and south of Brisbane – creates powerful synergies with Edge Centres to help deliver on the next stages of the company's development."
Edge Centres provides modular 'off grid' data centers powered by on-site wind and/or solar power and connected to the main grid as backup. Each facility is equipped with just under 1MW of solar infrastructure, and 48-hour battery and UPS backup equipment, which supports 64 1kW quarter racks. The company says the sites can produce more electricity than they use.
As well as Traralgon and Bendigo in Victoria, the company has or is developing Edge locations in Grafton and Dubbo, New South Wales; Toowoomba, Cairns, Mackay, and Townsville, Queensland; and Hobart, Tasmania. The company is also currently developing two Edge facilities in Japan. In September the company broke ground on an Edge network operations center in Albury, New South Wales.
In May the company announced a partnership with Everest Infrastructure Partners to deploy cell towers at its data center locations.