Australian Edge operator Edge Centres has acquired US data center firm Multacom.
The companies announced the acquisition this week. Terms were not disclosed.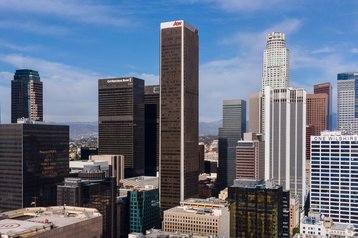 Edge Centres will take ownership of Los Angeles-based data center operator, adding 25,000 sq ft (2,320 sqm) and 1MW across 250 racks of capacity at 707 Wilshire Boulevard in Los Angeles to its portfolio. The facility is reported to be 82 percent occupied.
Jonathan Eaves, Edge Centres founder and CEO, said: "A year ago, Edge Centres opened its first PoP in the US to further support its Australian and Asian customers, as well as expand into the US. Over the last year, we worked very closely with the Multacom team. The experience has given us great confidence in their ability to support international, interstate, and local companies."
Known as the Aon Center and owned by Shorenstein Properties, the 62-story office skyscraper at 707 Wilshire Boulevard was built in the early 1970s. The entire building totals around 1.1 million sq ft (102,200 sqm). Founded in 1997, Multacom offers hosting services from three halls across the fourth floor of 707.
Eaves added: "Essentially, we liked what Multacom did so much that we knew they'd make a perfect addition to the Edge Centres team. It's a fantastic opportunity to acquire a business that we've worked with so closely over the last 12 months. The entire Multacom team will be onboarded and remain a part of the business going forward. They're a vital resource, bringing experience, long-standing business relationships, and expertise to our growing team."
Australian firm Edge Centres first announced plans for expansion into the US in April 2022, raising $5.7 million for its US rollout. It has made a number of acquisitions in the US this year.
The company has installed a Point of Presence (PoP) in CoreSite's One Wilshire carrier hotel data center in Los Angeles, California, before adding a full data center deployment at the 707 site.
It then launched a facility in St. Louis, Missouri - and bought a company hosting out of the same building - before acquiring a second in the state located in Columbia. The company recently acquired a former Switch & Data facility in Reston, Virginia.
Edge Centers said it aims to have 20 facilities in the US over the next three years, and is currently exploring potential additions to its portfolio in New Jersey.
On its website, Detroit in Michigan is listed as a future US location. The company has previously said it is planning roll-outs in Portland, Oregon, and Dallas, Texas.