Australian Edge data center firm Edge Centres has raised new funding for expansion into the US market.
"Edge Centres USA secures US$5.7 million (AU$8m) in seed funding round ahead of Q4 2022 launch in Los Angeles, kicking off US expansion," the company said this week. It didn't disclose the investors.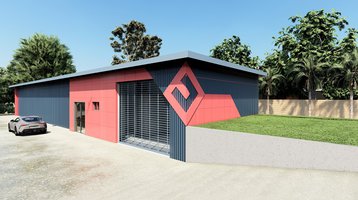 The capital will support Edge Centres' rollout of its Edge facilities in the US, with the company's entry into the US market predicted for Q4, 2022. The company said it was due to concurrently launch three new locations in Los Angeles, California, later this year.
"The USA represents a challenge and an opportunity unlike anything we've tackled before. It's ambitious and exciting, and it's going to be a lot of very hard work," said CEO Jonathan Eaves.
The Australian firm provides modular 'off grid' data centers powered by on-site wind and/or solar power and connected to the main grid as backup. Each facility is equipped with just under 1MW of solar infrastructure, and 48-hour battery, and UPS backup equipment, which supports 64 1kW quarter racks. The company says the sites can produce more electricity than they use.
In April, Edge Centers announced plans to procure 20 small data center pods from UK firm DataQube for its US rollout. It has installed a Point of Presence (PoP) in CoreSite's One Wilshire carrier hotel data center in Los Angeles, California.
Earlier this year the company closed an AU$12 million (US$8.95m) Series A fundraise led by a single investor, Singapore-based Cloud Link Solutions (CLS) for its Asia Pacific roll-out; the company is developing facilities in Malaysia and Vietnam, with more planned in Indonesia, the Philippines, and Japan.
As well as Traralgon and Bendigo in Victoria, EC has or is developing Edge locations in Grafton and Dubbo, New South Wales; Toowoomba, Cairns, Mackay, and Townsville, Queensland; and Hobart, Tasmania. In September 2021, the company broke ground on an Edge network operations center in Albury, New South Wales.