Interxion has started construction work on CPH3, the latest addition to its Danish portfolio.
Located on an industrial estate in Ballerup, a municipality in the outskirts of Copenhagen, the site will have 7,000 square meters (75,350 square feet) of whitespace and a capacity of 14MW when it is fully built-out.
In its first phase, which the Digital Realty subsidiary is aiming to complete by 2022, 2,300 square meters (24,760 square feet) will be used to store processing equipment.
The sky is the limit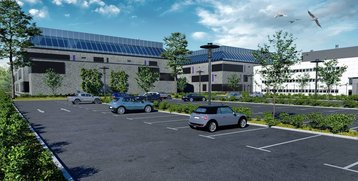 Customers will gain access to 60 networks and ISPs as well as four Internet Exchanges, all the major cables, and HAVFRUE/AEC-2, the transatlantic submarine cable connecting New Jersey to the Jutland Peninsula of Denmark, with a branch landing in Ireland.
Additionally, on-premise networks can connect to Microsoft's Azure ExpressRoute cloud using the only dark fiber route in the country.
With its 100 odd data centers spanning 13 European countries, the company offers access to 700 connectivity providers - meaning it is one of the most interconnected providers on the continent, rivaled only by Equinix.
"Data is migrating away from on-premise data centers to the cloud," said Peder Bank, Nordics managing director of Interxion.
"This trend, along with the exponential growth in the volume of data created, has prompted enterprises to harness the power of data gravity and deploy their critical infrastructure at key centers of data exchange. Interxion's Copenhagen campus forms a key hub at the heart of digital Denmark, which offers a uniquely attractive business climate."
After being acquired by US wholesale giant Digital Realty in late 2019 for $8.4 billion, Interxion's 53 European data centers became part of a 93-facility European portfolio. Since then, it has broken ground on new facilities in Switzerland; bought land and data centers in Austria, Croatia, Spain, Germany, and Greece; completed its third facility in the southern French city of Marseille and broken ground on a massive campus in Paris.
Not including the constructions underway, Digital Realty owns and operates more than 280 data centers worldwide.