Digital Realty subsidiary Interxion has started building its third data center in Zürich, Switzerland.
Adjacent to its ZUR1 and ZUR2 facilities, the new data center will be built in three phases, with the first providing 2,900 square meters (31,215 sq ft) of total equipped space when it opens by mid-2022.
When fully built out, ZUR3 will span 11,000 square meters (118,500 sq ft) of total equipped space and 24MW of customer capacity.
Warming Switzerland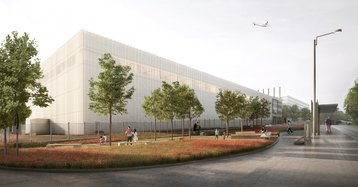 The new facility is expected to be part of a new district heating project in the municipalities of Opfikon and Rümlang, with the data center's waste heat warming homes to the heating project in the EnergieVerbund Airport City region.
"The expansion of our Zurich campus enables Interxion to offer Swiss and international companies the highly connected data center capacity they need as they roll out their hybrid IT infrastructure by combining leading cloud services, global connectivity, and Interxion's colocation solutions," said Hans Jörg Denzler, Switzerland MD of Interxion.
"We are pleased to support local and global service providers with additional data center capacity to seamlessly expand their services in the region via PlatformDigital."
David Ruberg, chief executive of the company's EMEA market, added: "ZUR3 meets the requirements of both our local and global multinational enterprise customers, providing access to dense network connectivity, available power, and interconnectivity with other strategic European locations, and will keep us at the forefront of the opportunity in Switzerland."