San Francisco
Watch sessions on-demand
The virtual conference for the hyperscale data center ecosystem
Opening keynote: Why data gravity is the single biggest challenge for digital transformation
This session took place on October 14, 2020
Please complete the following form to access the full presentation.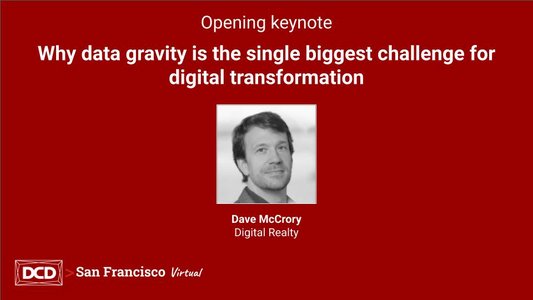 Opening keynote: Why data gravity is the single biggest challenge for digital transformation
What do you get when you take the laws of physics, the laws of IT, and intersect them with digital transformation? The answer is data gravity—and it's the single biggest challenge facing all companies, today and into the foreseeable future.
First coined by Dave McCrory in 2010, the creator of the Data Gravity Index (DGI), will take to the virtual stage to provide his prediction for the future growth of data, the Index's ability to provide quantitative insight to unlock the dynamics of data gravity for the modern enterprise and a blueprint for addressing infrastructure constraints.
Speakers