San Francisco
The virtual conference for the hyperscale data center ecosystem
We're hosting a global conversation about the evolution of hyperscale and its impact on the industry
After 15 years of annual conferences for the data center industry in Northern California's Bay Area, the technology capital of the world, COVID-19 has forced us to rethink our 2020 strategy. So, we've created an immersive virtual conference experience that democratises our content and allows the world to join in and make new connections. Major topics that we'll be discussing include:
Sustainability and the journey to net-zero data centers
How will hyperscale dominate the edge
Industries of the future and the impact of COVID-19
.....and much more. Broadcasting on October 14-16, DCD>San Francisco will bring together the major players from the global hyperscale data center ecosystem to discuss the future in-front of and with an anticipated audience of more than 2,000 professionals.
Your DCD virtual conference experience
Learn

from a conference agenda packed with industry experts

Interact

through live Q&A, instant polls and social media

Network

with your peers on our AI-driven 1-2-1 meeting platform

Exchange

ideas and knowledge with our virtual roundtables
Connect with speakers & delegates live!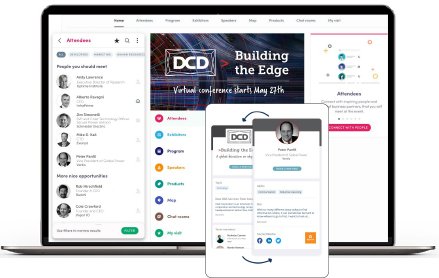 Registered delegates from the buy-side ecosystem can now connect with other professionals on our easy to use virtual networking platform. If you want to meet new people and gain the types of valuable insights you only get talking to people who share similar challenges, then this is the virtual alternative to meeting at a physical event.
Join roundtables discussions after each conference session
Arrange 1-2-1 meetings with our expert speakers and other delegates
Meet new people with virtual speed networking
The COVID-19 pandemic is radically changing how professionals now access the knowledge and networking they previously got at industry events.
Here are just some of the companies that are regularly represented at DCD>San Francisco. Registered delegates can see who will be coming this year on the platform.
This is a natural place for us to introduce some of our latest products to existing customers in high tech and new prospects, to really gain access to those on the infrastructure side who are looking at the latest capabilities and functionality.

Mark Gaydos, Nlyte Software

DCD does a great job at putting together an event that enables us to share some of our perspectives but also to be able to get feedback from people.

Kevin Brown, Schneider Electric

DCD is a great partner. They have a large presence and a wide audience. They are very well known in the industry for big initiatives and bringing the industry together, so we choose this event specifically to drive our new announcements.

Kushagra Vaid, Microsoft