On a visit to the ancient city of Marseille, France's oldest city, DCD met with Fabrice Coquio, Interxion France's President to discuss the retail colocation provider's position on the French and European markets, its current strategy and future plans. The discussion was wide-ranging: Coquio is also co-founder of France Datacenter (formerly CESIT), an advocacy group supporting the interests of the broader French data center industry.
Interxion now has 49 data centers in Europe, and seven additional projects - either new builds or expansions - underway, having steadily increased its revenue over the last decade. In the third quarter of 2017, the company registered 18 percent revenue growth year-on-year.
Local knowledge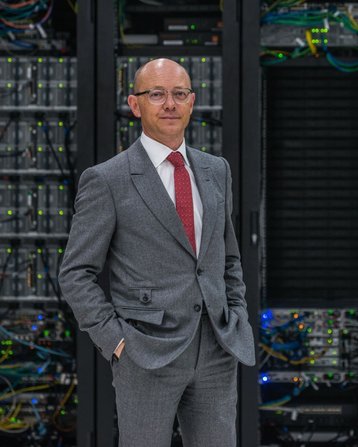 For Coquio, what differentiates Interxion from its main rival, Equinix - whose acquisition of Telecity in 2016 marked a turning point in the expanse of its European operations - is that it focuses on organic, rather than acquisition-fueled growth.
"We build according to demand," said Coquio. "What is the point in building data centers if they are going to be empty?" And indeed, in its earnings report for Q3 2017, the company recorded an 82 percent utilization rate of its facilities.
Despite having local construction partners in each of its operating countries, Interxion employs engineers internally which, Coquio says, allows them to enter each project with the wealth of experience gained building the company's more than three dozen facilities. 
And as a rule of thumb, the company prioritizes identifying talent locally. This makes sense in France and Germany - where Interxion has 20 data centers and gathers a large share of its revenue - given the somewhat tedious nature of both countries' bureaucratic processes.
"France is not a bad place to set up a business, this is a common misconception," said Coquio. The difficulty lies in understanding the country's legislative intricacies, he explained, and how to use them to one's benefit.
"Yes, taxes are quite high here," he laughed, "but what people don't know is that you are entitled to a lot of state aid," such as CICE tax credits on investment, and the CIR's research tax credit deductions, or subsidies for the use of renewable energy.
This knowledge of the ins and outs of the country's land planning system has come in useful in the company's establishment in Marseille, Interxion's first new data center location in 16 years.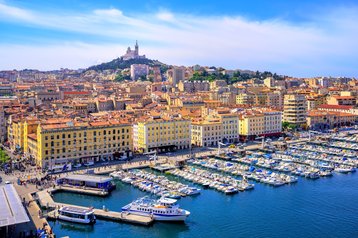 Massalia
At a first glance, France's second most populous city doesn't look much like your typical data center hotspot: essentially, it is a basin delimited by mountains - and the picturesque Calanques National Park - on one side, and the sea on the other, with a very densely built out center. Land suited to the construction of data centers is scarce.
It is important to remember that the city's landscape is what distinguishes it from the rest of France. In 600 BC, Phocean Greeks founded their first colony here, naming it Massalia, and soon its harbor was a source of prosperity. .
Marseille's success as a commercial hub peaked in the 1800s, after the French occupation of Algeria and the opening of the Suez Canal. To this day, the city remains the country's largest port, for commerce, freight and cruise ships.
But in the Internet age, Coquio says, Marseille's position on the Mediterranean coast is turning it into a central interconnectivity location for Europe. Rather than being a mere transit zone for backhaul providers, as it formerly was, the city is a landing point for an increasing number of submarine cable systems. Currently, there are 13, expected to climb to 20 by 2019.
And although Marseille is not a major international city like Frankfurt, London, Amsterdam or Paris, he says, "It's not as if we're setting up in Rennes, or Lille. Marseille is different." It is a "cross-continent gateway," Coquio tells us, and being a gateway between Africa, Asia and Europe puts Marseille on a level with cities like Miami and Singapore, where exchange is more important than processing capability.
By bringing connectivity providers, systems integrators and cloud providers together in one place, Coquio says, the company not only creates risk dissipation for itself, but enables cost savings for the companies involved.
In the past three years, the company has risen from 46 to 134 networks in its MRS1 data center. With 152TB of capacity on site, it caters for digital media companies, cloud providers, content distribution networks, and four internet exchanges, including DE-CIX and NL-IX.
What's more, he says, the nature of cable systems and the underlying technologies have changed radically since the first submarine systems were laid, with data transmission speeds having increased two, three, sometimes fourfold, explaining why more and more companies have an interest in connecting to the new systems.
With only 47 square meters of available technical space left in its MRS1 data center, however, new real estate is an imminent concern.
Missus two and missus three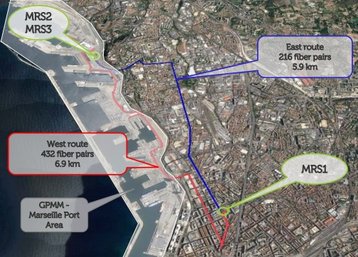 The location for the company's second and third data centers, MRS2 and MRS3, in Marseille's industrial port area, known as 'Le Grand port maritime,' is traditionally reserved for activities that contribute to the promotion of the city's port economy - typically, cargo and cruise ship companies make up the entirety of operations there.
The area is under direct state control, as opposed to regional, departmental or local governance.
Interxion was granted an exemption by the national maritime authorities, having successfully demonstrated the wider economic interest for the city of building data centers, and the logistical difficulty of doing so elsewhere.
This is especially true due to cloud companies' stipulation that the distance between two facilities be less than 8km for them to move servers into them: Anything outside of the city would require running fiber around (or over) the surrounding mountainous areas.
However, restrictions on industrial ports in France also barred the company from buying the real estate on which it is building MRS2 and MRS3, as a consequence of which it signed a 49 year lease on the property.
The company also negotiated the right to run submarine cables through the 8km dam which runs along the industrial port area, which it says will make things easier for any new systems in future.
Two of these cables, in fact, have points of presence directly in MRS2 - one of which is the Asia Africa Europe 1 (AAE-1) system, which connects South East Asia with Europe - allowing them to connect directly with backhaul providers on site. 
To this end, and despite not having launched the facility yet, Interxion has installed temporary micro data centers, engineered in collaboration with Schneider, on site, which are already operational despite the fact that the facility itself has yet to come online.
Happily, if everything goes to plan, the first phase of MRS2 will come online next month, offering 900 sq m of whitespace, with the second phase doubling the available technical space in the third quarter of 2018.
The facility will be built in a structure designed by famous French civil engineer Eugène Freyssinet, starting with a former industrial facility for the petroleum, petrochemical, chemical, and fertilizer industries. The project will empty the facility of its entrails, keeping only the admittedly aesthetic facades and arched structure – and will eventually offer 4,300 sq m of whitespace at a density of 2kW per square meter. 
And as if this weren't ambitious enough, the company has recently gained planning permission to build a third, significantly larger facility, quite literally across the road from MRS2, and approximately 40 meters from the seafront, in a former Nazi submarine base.
The base built towards the end of WWII and subsequently used as a prison camp for Wehrmacht captives before falling into disuse in the 1950s, is 232 meters (761 feet) long, with steel reinforced walls between three and seven meters (or between 9.8 and 22.9 feet) thick. The facility will provide 7,200 square meters of technical space, separated into 48 cells.
MRS3 is expected to serve larger customers including major cloud providers, with a direct fiber connection to neighboring MRS2.
Coquio states that he already "has his eye" on several other sites in Marseille, still in the port area, but that no deals have been struck yet.
One limitation could be the capacity of the local power grid. Electricity is in high demand: last year, the company found itself selling energy capacity back to the city of Marseille, to make possible the operation of public electric buses.
Interxion is still the only major colocation provider with a foothold in the city, and has registered growth between 65 and 87 percent each year since it launched in Marseille - but other competitors will eventually arrive. When they do, they will struggle to overcome the incumbent, said Coqio: "Our goal is not to be hegemonistic or monopolistic. At Interxion, we value competition. However, the aggregation of a three year client base will be the biggest blocker for [any new entrants onto] the market."