Digital Realty's Interxion has acquired a 3.6-acre land parcel in Madrid, Spain.
The 14,550-square meter plot of land is less than one kilometer from Interxion's existing Madrid campus and can support a data center with up to 34MW of critical IT capacity across more than 35,000 square meters (380,000 sq ft) - presumably across multiple stories.
Continuing to grow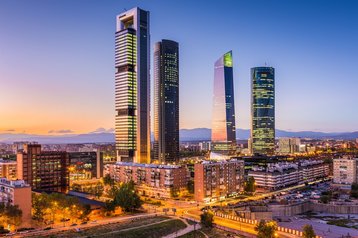 Construction of the data center, Interxion's fourth in the city, is expected to generate more than 500 temporary jobs. The company claims that, after operating in Spain for the past two decades, it now manages more than half of the nation's Internet traffic.
"The recent restrictions on people's movements have shined a new light on the role of data centers and the digital economy," Robert Assink, Interxion Spain MD, said.
"There is now heightened awareness of the importance of connectivity and access to the applications that enable us to work, study, consume content and shop from anywhere. Without data centers, it would not be possible to connect users and businesses."
Digital Realty acquired Interxion for $8.4 billion in late 2019, and has shown no signs of slowing investment in the European data center operator.
This year it opened its latest Marseille data center and started work on an 85MW Digital Park in Paris, and over in Germany acquired the freehold to its Frankfurt campus land, along with a nearby plot.