Digital 9 Infrastructure (D9) is to invest an additional $90 million in Icelandic data center firm Verne Global to fund further expansion.
D9, managed by Triple Point Investment Management, acquired Verne in September 2021 for £231 million ($320m). Verne operates a 24MW data center campus on a former NATO site in Keflavik that it launched in 2012.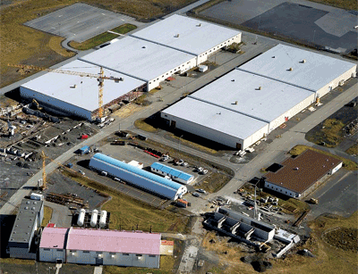 D9 said this week it would invest a further $93 million in Verne Global over the next 12 months to fund the expansion of capacity by a further 20.7 MW.
8MW of capacity was already under development, and Verne announced a 10MW expansion to the site in November 2021. D9 said the investment expansion includes the completion of a new 8.2MW data hall and a further 12.5MW of repurposed capacity for additional enterprise customer demand.
The data hall currently under construction is anticipated to start generating revenue in Q3 2022, with the new developments expected to be completed and start ramping up in Q1 2023. The additional investment will result in a total constructed capacity at the Keflavik site of approximately 40MW out of a possible 100MW.
"Verne Global's data center assets represent some of the cleanest, lowest carbon footprint data centers, globally. This follow-on investment to fund the expansion of the Verne facility, driven by capacity demand from both new and existing customers, will enable these customers to shift further toward their decarbonization goals while addressing their growing digital needs," said Thor Johnsen, Head of Digital Infrastructure at Triple Point. "The investment also demonstrates our ongoing ability to deliver attractive and accretive contracted cash flow through our investment platform, a leading Nordic data center business."
Triple Point raised £300 million ($408m) from a March 2021 IPO through D9, which subsequently acquired submarine cable owner Aqua Comms for £160 million ($215m). In June, it raised another £175 million ($246.7m) and subsequently acquired Verne before buying a Stellium data center and cable landing station in northern England.
D9 is one of a number of infrastructure funds that were listed on the London Stock Exchange last year. In January 2021 Cordiant Capital raised £370 million ($511m) through the IPO of a new infrastructure firm, called Cordiant Digital Infrastructure, before acquiring Ceské Radiokomunikace (CRA) from funds of Macquarie in the Czech Republic as well as an undisclosed long-haul fiber-optic network based in Norway. Last week it acquired US data center firm DataGryd and Polish digital infrastructure company Emitel for a combined $551 million.
October 2021 saw Pantheon announce plans to list an infrastructure subsidiary on the London Stock Exchange and raise around £300 million to invest in infrastructure including data centers, with Alinda Capital Partners following suit with similar plans shortly afterward.