Struggling colo firm Cyxtera is set to reject leases of two data centers owned by Prime DC in Santa Clara, California.
Cyxtera filed for Chapter 11 bankruptcy in June amid ongoing losses and looming debt maturities. The company is seeking to find a buyer or new investor.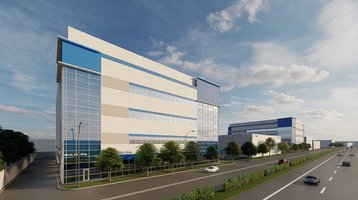 DgtlInfra reports Cyxtera is set to reject two leases at Prime DC-owned sites along Comstock Street, exiting one site before construction is complete on the property.
The colo company reportedly plans to reject two unexpired leases at its SFO4-C and SFO4-D facilities – located at 1111 Comstock and 1231 Comstock respectively.
DCD has reached out to both companies for comment. Update: Cyxtera confirmed the lease rejection, and linked to a document confirming the rejection.
First announced in October 2020 and completed in 2021, Cyxtera leased the entirety of 1111 Comstock in June 2021. The four-story, 121,000 sq ft (11,000 sqm) facility offers 9MW. Cyxtera's lease for the property was scheduled to expire on November 2037.
Prime, which counts Macquarie amongst its investors, announced plans for another 9MW facility a few doors down at 1231 Comstock in January 2022. Construction on the three-story, 80,000 sq ft facility began in late 2022 and is still ongoing.
Cyxtera's lease of the property had not been previously announced. DgtlInfra said Cyxtera's lease for the site was scheduled to commence on April 2024 and expire March 2039.
The two sites are adjacent to Cyxtera's SFO4-A facility at 1500 Space Park Drive. That facility offers 9MW across 52,000 sq ft; it was built in 2008 by CenturyLink and taken over by Cyxtera in 2017. Cyxtera currently only lists the SFO-A facility on its website.
The company also operates three other sites in Silicon Valley – SFO1 at 2401 Walsh Avenue, SFO2-A and -B at 4700 and 4650 Old Ironsides Drive, and SFO3-A and -B at 1400 and 1320 Kifer Road.
Since the start of the bankruptcy process, Cyxtera has rejected leases at CyrusOne and Serverfarm-owned facilities in Amsterdam in the Netherlands and Moses Lake in Washington, as well as a Stack-owned facility in Elk Grove, Illinois.
Cyxtera went public via a SPAC in 2021. The company combined with the Nasdaq-listed Starboard Value Acquisition Corp. (SVAC) in a $3.1 billion deal. However, within a year, the company was rumored to be looking to go private again, but has been unable to find a company to acquire it. Reports that it was again looking for a buyer surfaced earlier this year as its debt matured.
The colo firm operates more than 60 facilities totaling more than 245MW across 29 markets globally; the majority of its portfolio is leased.
Cyxtera is a tenant of facilities owned by the likes of Keppel, Digital Core REIT, and Mapletree Industrial Trust. Other data center creditors include Digital Realty, Menlo Equities, Iron Mountain, and Sabey.
The company has received six letters of intent from interested buyers. Bankruptcy filings note Cyxtera faced "significant headwinds" from inflation and macroeconomic volatility, which have driven up interest rates and energy prices.