Cyxtera is to lease the entirety of a new data center in Santa Clara, California, from Prime Data Centers.
Wholesale data center firm Prime this week announced that it has completed a pre-lease the new 9MW facility currently under construction in Santa Clara, California, to Cyxtera.
Retail colo firm Cyxtera has leased the entire four-story, 121,000 sq ft (11,000 sq m) facility from Prime. The data center was first announced in October 2020, with construction due to be completed in late 2021.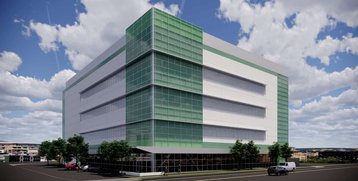 "Adding a company with the global reach and resources of Cyxtera to Prime's customer list advances our mission of fostering strong partnerships in the industry," says Jeff Barber, EVP sales and marketing at Prime. "Prime strives to develop creative and transparent partnerships such as this, where both parties can realize not only economic benefits but also gain efficiencies via unique and flexible contract structures designed to support the specific needs of the tenant."
In its own announcement of the news, Cyxtera also said it was adding 1.6 MW of capacity at its SFO1 facility in California and 2 MW of capacity to its ORD2 data center in Elk Grove Village, Illinois.
"By adding a new facility in Silicon Valley and bringing more capacity online in our existing facilities there and in Chicago, we're able to continue delivering Cyxtera's innovative solutions to even more of our existing and prospective customers," said Nelson Fonseca, president & CEO of Cyxtera.
This week Macquarie Capital announced a $5 billion partnership with Prime Data Centers to help fund the wholesaler's 400MW project pipeline.
In February Cyxtera announced plans for a $3.4bn merger with the Special Purpose Acquisition Company SVAC. The SPAC merger is due to complete soon. The company quietly announced earlier this month it was exiting the Moses Lake data center in Washington.