Singapore's Communications Minister has confirmed that the city-state will begin accepting applications for new data center developments from Q2 as part of a pilot project.
Singapore has had a moratorium on new data center projects since 2019 amid a dearth of space and energy. But has recently begun to indicate it would relax the restrictions.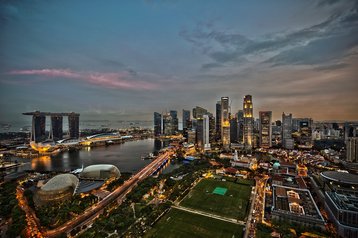 A limited number of new developments will be allowed during an initial pilot phase, after which the government will assess the results and energy impact before looking to relax restrictions further.
"IMDA and the Economic Development Board (EDB) will pilot a Call for Application to facilitate the calibrated growth of data centers that possess the best-in-class techniques, technologies, and practices for energy efficiency and decarbonization," said Dr. Janil Puthucheary, Senior Minister of State, Ministry of Communications and Information, last week. "Singapore is committed to fulfilling our environmental obligations under the 2015 Paris Agreement, and greener data centers will allow us to do so, while at the same time supporting the growing needs of our Digital Economy. The Call for Application will be launched by the second quarter of 2022."
In early January, Minister Gan Kim Yong said the pause on data centers would soon end, but would be seeking highly-efficient data center partners.
A subsequent meeting featuring government agencies including the Economic Development Board (EDB), JTC, Urban Redevelopment Authority, and Infocomm Media Development Authority, said new applications would be limited to a maximum of three applications will be approved during this pilot phase with capacity ranging from 10MW – 30MW.
The government has reportedly mandated that PUE for the data centers should be 1.3 and below. The application criteria must include innovation and sustainability solutions and applicants with a track record in building and operating data centers in Singapore will be considered favorably. The government will evaluate the results 12-18 months after the pilot phase.
Government agencies may have land designated for data centers but are open to considering applicants' options in other sites. A consortium comprising various data center stakeholders may also be considered in the application.
"Data centers power many applications and services for businesses and everyday life, from complex data management to e-commerce transactions," Puthucheary added. "However, data centers are intensive users of water and electricity. Given our resource constraints, we need to manage the development of data centers sustainably."
Data centers use around seven percent of Singapore's electricity - the country has a total generation capacity of some 14,0000 MW, and an installed base of 70 data centers totaling around 1000MW. Given that the country gets nearly all its electricity (96 percent) from natural gas, data center operators who locate there cannot meet commitments to use renewable power, and will be contributing to global warming. But the city-state and operators have been exploring alternative ways to build data centers, and generate power - including a floating solar farm, seaborne data centers, and siting data centers at liquefied natural gas (LNG) plants.
While demand for data centers continues to grow, the world's major markets for such facilities are reaching critical mass and pushing back. In the Netherlands – which previously saw a data center moratorium introduced and then relaxed in Amsterdam – the Dutch government recently announced it will impose stricter rules for hyperscale data centers and has banned new projects for nine months while the new rules are worked out.
In Ireland, EirGrid has said there will be no new data center developments in the Dublin area until at least 2028 amid power constraints.
In Northern Virginia, proposals to rezone large swathes of land in both Loudoun and Prince William County for further data center development are facing pushback from officials and local residents.
More in Construction & Site Selection