A group of protesters gathered outside QTS' office in Manassas in Northern Virginia after the company said it was involved in proposals for a new data center campus in Prince William County.
The proposals for PW Digital Gateway look to rezone more than 2,100-acres in Manassas, Northern Virginia for data center development. QTS recently admitted it was interested in acquiring an 800-acre site on Pageland Lane that would be part of the massive rezoning proposal.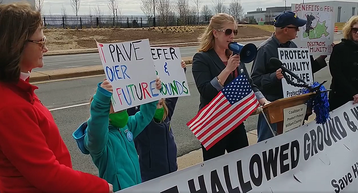 As a result, Inside NoVA reports that about 50 people protested outside of the Kansas-based company's facility near George Mason University's Science and Technology Campus on Wednesday.
The protesters were chanting and carried signs to "stay out of the rural crescent" and "save our sacred battlefield." Residents noted the proposals would also develop over graveyards of enslaved people dating from before the US civil war.
"We don't have to sacrifice hallowed ground and the Occoquan River watershed for good economic development," said Elena Schlossberg. Referring to the 1994 fight against Disney's plan for a theme park near Haymarket, she added "we are here to say to QTS data centers … go away. You think Disney had it hard? Just wait."
Reports of a PW Digital Gateway surfaced last year. Originally reports had the development billed as a proposal for an 800-acre development; the proposal aimed to string together 30 parcels of agricultural land owned by 15 property owners to be developed by a single unnamed data center developer, now seemingly revealed as QTS.
However, as more than 200 landowners have elected to join the proposal along Pageland Lane, the PW Digital Gateway plan has expanded. The current proposal would replan 2,133 acres of the county's "rural crescent" for data centers. Approval could pave the way for up to 27.6 million square feet of data centers. But, even if the Gateway plan was approved individual developments would still need planning and rezoning permission; data center developments outside the county's designated 'Data Center Overlay Zone' also need special permission.
The proposals have drawn sharp rebuke from local residents and officials, who have voiced concerns over inviting large amounts of new development to a mostly rural area and worry about the potential impact the rezoning could have on the nearby Manassas National Battlefield.
Blackstone-owned QTS operates six data centers in Virginia; four in the Ashburn area, one in Richmond, and one in Manassas. A QTS spokesperson recently said a formal rezoning application for the development from the company "is coming," but declined to comment on when it would be filed.
Local officials are yet to vote on the Digital Gateway proposals. A separate study into whether the county should expand its current 'data center overlay district' is also underway.