Amazon is investing about $2.8bn in the city of Hyderabad, Telangana State, India, to set up a new cloud region.
The new AWS region will consist of three availability zones joining the company's existing nine AWS regions and 26 availability Zones across Asia.
It has been known that AWS intends to set up a new cloud region in India for some time, but the figure being invested was never (until now) made public. This announcement follows a $1.6 billion investment in the country earlier in 2020. The new cloud region will be launched by mid-2022.
Clouds gather around Hyderabad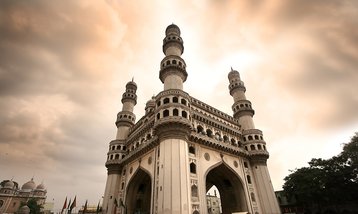 Telangana IT Minister K. T. Rama Rao, said: "We are pleased that AWS has chosen Telangana as the location for its second region in India. Hyderabad is an important talent hub for IT professionals and entrepreneurs, and with the increased adoption of cloud computing, we are set to see a transformation in the way businesses in south India harness the power of IT."
Globally, AWS has 77 Availability Zones across 24 infrastructure regions, with plans to launch 15 Availability Zones and five more AWS Regions in India, Indonesia, Japan, Spain, and Switzerland.
AWS's Senior VP of Global Infrastructure and Customer Support, Peter DeSantis said: "Businesses in India are embracing cloud computing to reduce costs, increase agility, and enable rapid innovation to meet the needs of billions of customers in India and abroad. Together with our AWS Asia Pacific (Mumbai) Region, we're providing customers with more flexibility and choice, while allowing them to architect their infrastructure for even greater fault tolerance, resiliency, and availability across geographic locations."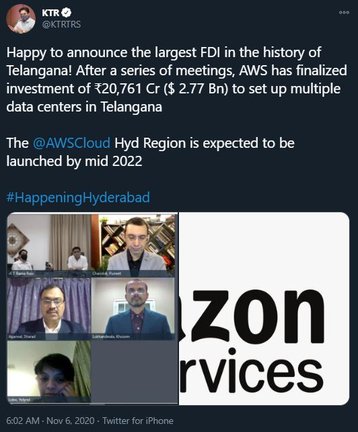 Amazon has been investing in India for some time, trying to establish itself as the country's digital market develops. This year, the company announced it was spending $1.6bn on two data centers in India. It appears this was part of the upcoming cloud region.
One of the facilities, a 66,000 sq m (710,000 sq ft) data center, will be located at the village of Chandanvelly, outside Hyderabad; while the other 82,000 sq m (882,000 sq ft) facility will be situated at the village of Meerkhanpet. Both are in the Ranga Reddy district in the state of Telangana.
At the beginning of the year, Amazon's Jeff Bezos visited India in a marketing campaign. He announced Amazon would invest $1bn to digitize small and medium businesses across India to help the country achieve its goal of $10bn in SME exports by 2025. In June, it emerged that the company was looking to buy into Indian telco Bharti Airtel for around $2bn.
Companies other than Amazon have also been establishing themselves on the subcontinent. Google and Microsoft have both been buying into domestic telcos, as part of the National Government's Digital India.
Google made its announcement in July., while Microsoft last year signed a deal with Indian telco Jio to build Azure data centers in the country. and is part of Facebook's Telecom Infra project granting Airtel access to Azure. Microsoft has three data center regions in India, while Google has two.