India's second largest company by market cap, conglomerate Reliance Industries, will partner with Microsoft, the world's largest company by market cap.
Reliance's Jio telecoms unit will build data centers across India that run Microsoft's Azure cloud, company chairman Mukesh Ambani told shareholders at the company annual shareholders' meeting.
Land grab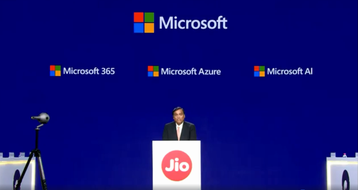 "To leapfrog the world, it is a national imperative to develop a nation-wide cloud computing infrastructure that is both cutting edge and affordable," Ambani, Asia's richest man, said. "Today I am privileged to announce that Jio and Microsoft have entered into a globally unique long-term alliance to accelerate the digital transformation of our country."
He added: "As a part of this alliance, while Jio sets up a network of large world-class data centers across India, Microsoft will bring its Azure cloud platform into Jio's data centers. When we put these two pieces together, we now have the capabilities to develop India-native solutions including speech recognition, and natural language understanding for all major Indian languages and dialects."
In a video message at the shareholder's meeting, Microsoft CEO Satya Nadella said: "Our long-term partnership combines the power of our technology - including Azure, Azure AI and Office 365 - with Jio's connectivity and digital solutions - which are among the most used and fastest-growing in the world.
"Jio and Microsoft will partner to launch new cloud data centers in India, ensuring more organizations can access the tools and platforms they need to build their own digital capability."
A 10-year partnership, the full number of expected data centers was not shared. "The initial two data centers, which can house IT equipment consuming up to 7.5MW of power, are being set up in the states of Gujarat and Maharashtra. These are targeted to be fully operational in calendar year 2020," Jio said in a statement.
Jio disrupted the Indian telecoms industry when Ambani launched the business in late 2016 with free voice calls and cheap data plans, causing a mobile data price war across India. Incumbents Vodafone Idea and Bharti Airtel lost hundreds of thousands of customers, and smaller telcos closed down, as Jio gained significant market share.
Ambani may be planning a similar price-conscious approach with the Azure partnership. At the shareholders' meeting, he said that Jio will provide free connectivity and cloud infrastructure to start-ups (going as far as to invest in some of the start-ups), and offer a "bundle of connectivity, productivity and automation tools" to micro, small and medium business from 1,500 rupees ($21.05) a month. "For a similar service, customers abroad pay up to $1,000 a month," Ambani claimed.
India has roughly 699 million Internet users, and may soon need a lot more data center infrastructure. The proposed Personal Data Protection Bill could force companies to keep Indian users' data within the nation's borders. But it is yet to be tabled in Parliament, and may change as it comes closer to reality.
Anant Maheshwari, president of Microsoft India, said: "This joint effort is likely to unlock and accelerate digital innovation in India at an unprecedented scale. I look forward to working with and learning from our current and new customers and partners as we chart a new path with this alliance."