OpenAI, the originally non-profit AI research organization, will receive a $1bn investment from Microsoft.
Together the companies will build new Azure AI supercomputing technologies, and Microsoft will become OpenAI's preferred partner for commercializing new AI technologies.
AGI's prophets profit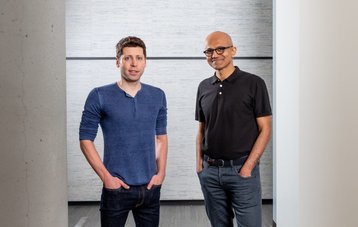 OpenAI started in 2015 with $1bn in pledged funding from Elon Musk (Tesla, SpaceX), Sam Altman (then-president of startup incubator Y Combinator), Peter Thiel (PayPal, Facebook investor), Reid Hoffman (LinkedIn), AWS and more
The research group was a registered non-profit, and aimed to open source the majority of its work - only declining to release tools it thought were too 'dangerous' to be given out.
In an introductory post, OpenAI stated: "Our goal is to advance digital intelligence in the way that is most likely to benefit humanity as a whole, unconstrained by a need to generate financial return. Since our research is free from financial obligations, we can better focus on a positive human impact."
But earlier this year, that mission shifted. This March the group said that it needs "to invest billions of dollars in upcoming years into large-scale cloud compute, attracting and retaining talented people, and building AI supercomputers."
To do this, it split into two groups, one non-profit (OpenAI Nonprofit) and one for-profit (OpenAI LP).
"The fundamental idea of OpenAI LP is that investors and employees can get a capped return if we succeed at our mission, which allows us to raise investment capital and attract employees with startup-like equity. But any returns beyond that amount—and if we are successful, we expect to generate orders of magnitude more value than we'd owe to people who invest in or work at OpenAI LP - are owned by the original OpenAI Nonprofit entity," the group said.
While OpenAI LP now employs the majority of the combined group's approximately 100-strong staff, OpenAI claims that it has "designed OpenAI LP to put our overall mission—ensuring the creation and adoption of safe and beneficial AGI—ahead of generating returns for investors."
OpenAI detailed the restrictions placed on making payouts to investors, saying "returns for our first round of investors are capped at 100x their investment." That is a generous rate of return: if it covers Microsoft, its return is 'capped' at $100bn.
It will also receive non-financial return benefits, including becoming OpenAI's exclusive cloud provider, and become the preferred partner for AI commercialization. Those technologies, one can presume, will not be open sourced.
Microsoft is specifically investing in OpenAI LP, with the group's chairman and CTO Greg Brockman confirming that "it's a cash investment," adding "we'll definitely spend the $1bn within 5 years, and maybe much faster. It's also not Azure credits."
Sam Altman, CEO of OpenAI, previously downplayed the claim that a 100x cap is rather high. Its theoretical AGI could "maybe capture the light cone of all future value in the universe, and that's for sure not okay for one group of investors to have."
With today's announcement, he added: "The creation of AGI will be the most important technological development in human history, with the potential to shape the trajectory of humanity.
"Our mission is to ensure that AGI technology benefits all of humanity, and we're working with Microsoft to build the supercomputing foundation on which we'll build AGI. We believe it's crucial that AGI is deployed safely and securely and that its economic benefits are widely distributed. We are excited about how deeply Microsoft shares this vision."
Satya Nadella, CEO of Microsoft, currently the world's most valuable public company, added: "AI is one of the most transformative technologies of our time and has the potential to help solve many of our world's most pressing challenges. By bringing together OpenAI's breakthrough technology with new Azure AI supercomputing technologies, our ambition is to democratize AI — while always keeping AI safety front and center — so everyone can benefit."
Earlier this year, Wired reported that OpenAI - which is no longer formally involved with Elon Musk - may also be set to raise money from venture capital firm Khosla Ventures and LinkedIn cofounder Reid Hoffman's charitable foundation.