A developer has withdrawn plans to develop a data center campus in Culpeper County, Virginia, after opposition from locals and officials.
David Martin, president of software development firm AttoTek, Inc had filed to rezone around 88 acres at his property along Brandy Road and Stevensburg Road in Brandy Station. The land is currently zoned Rural Area (38 acres) and Commercials Services (50 acres) in the area's development plan. The application seeks to rezone it to Light Industrial, under which data centers can be developed under the project name Brandy Station Technology Park.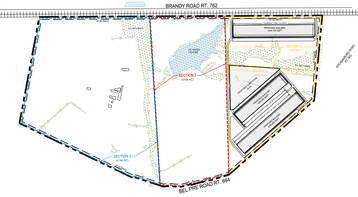 The Star-Exponent reports that Martin confirmed he has withdrawn his request in the wake of the commission unanimously recommending denial of the rezoning plan at a meeting last month.
The original application outlines plans to market the property to data center developers for up to three data centers. Phase A would consist of a single-story structure totaling 337,500 sq ft (31,350 sqm), and Phase B would consist of two single-story structures of 270,000 sq ft and 337,500 sq ft. The application had already been pared back to reduce the size of the buildings slightly from 940,000 sq ft (82,300 sqm) of data centers to around 765,000 sq ft (71,700 sqm).
He said that due to the commission's action, he's the marketing of his land for data centers on hold, but that he still intends to develop a campus on the site.
"We would like to give some more attention to the Planning Commission's concerns and see if we can come up with something better," he said. Timelines to restart the application are unclear.
"I could bring [the application to the Board of Supervisors], but we feel that the commission's concerns are legitimate and that they should be addressed in a little more detail, and we need more time to address them," Martin said.
"I believe that the project, the revenue it will generate will be good for Culpeper, including the majority of the Stevensburg District, but we just need the time to be able to quantify that and put together a better plan … a really thought-out plan, and don't really want to rush it at this point."
The project had seen opposition from local residents who were concerned about the noise and visual impact to the surrounding area.
Northern Virginia is the world's major data center market, but Culpeper County has largely eschewed the trend. There are four Equinix data centers in Culpeper County (CU1-4) that opened around 14 years ago.
AWS was recently granted permission to rezone 243 acres of land as a precursor to developing a data center campus consisting of two buildings spanning up to a combined 430,000 square feet (40,000 sqm). The county Board of Supervisors approved the rezoning 4-3 in April, despite the county Planning Commission previously voting to recommend denying the application. However, local residents are now suing county supervisors hoping to have the decision overturned.
More in Construction & Site Selection