Construction work on Apple's long-delayed Iowa data center is still yet to begin, according to the company.
The tech giant said this week that the facility has entered the design phase, more than four years after it was first announced and a year after it was originally due to come into operation.
The company first announced its 400,000 sq ft (37,000 sqm) data center in Waukee, Iowa in 2017, saying at the time the facility was due to be brought online in 2020. It seems at some point the project was changed to August 2022, before the company put in a request in 2019 with the Iowa Economic Development Authority to extend the deadline to finish the facility another five years and push the completion date to August 2027.
"The design process is underway for Apple's new data center, which is expected to create over 500 construction and operations jobs in Waukee," the company said this week.
The news comes as the company announced plans to make new contributions of more than $430 billion and add 20,000 new jobs across the country over the next five years. The spending includes plans for a new North Carolina Campus, hiring drives in California, Colorado, and Massachusetts, as well as new investments for Apple TV productions.
"At this moment of recovery and rebuilding, Apple is doubling down on our commitment to US innovation and manufacturing with a generational investment reaching communities across all 50 states," said Tim Cook, Apple's CEO. "We're creating jobs in cutting-edge fields — from 5G to silicon engineering to artificial intelligence — investing in the next generation of innovative new businesses, and in all our work, building toward a greener and more equitable future."
Register now for our upcoming virtual conference on data center energy integration: DCD>Grid Scale
Apple's data center woes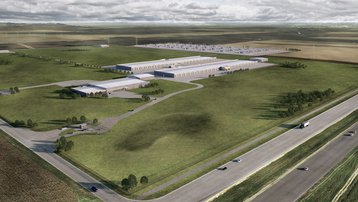 In 2018, Apple announced plans to spend more than $10 billion on US data centers over the following five years as part of its previous spending commitment. It's unclear if the company has met that goal, and hasn't made such a specific commitment this time.
Apple has faced a number of troubles around data centers in the intervening years since its previous spending announcement. In 2018, the company canceled plans to build a data center in Ireland after legal troubles and local resistance to the project. It eventually sold the land.
Another data center, its second facility in Denmark, was also canceled. Apple at the time said it wished to focus on the now-complete Viborg facility. Despite issues with contractors, Apple completed work on the Viborg facility in 2019, and has invested in two of the world's largest onshore wind turbines to power it.
Expansions to its Reno, Nevada data center have seemingly gone to plan without interruptions, as have plans to build a second data center in China.
Apple has been expanding heavily in renewable energy to power its own operations as well as contribute to the national grid. The company added 350MW of renewable energy supply in 2020 through its $4.7 billion Green Bond program. It also announced a 240 megawatt-hours battery storage project featuring Tesla Megapacks that will power most of its operations in California.
Last year T5 acquired a data center in Newark, San Jose that is thought to previously belong to Apple.