Apple is building a 240 megawatt-hours battery storage project in Northern California.
First reported by The Verge, the California Flats project will feature 85 Tesla lithium-ion "megapacks."
Apple and Tesla team up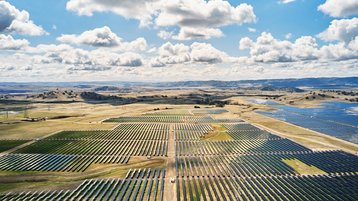 The batteries will be used in conjunction with a 130MW solar farm to power the company's large Cupertino headquarters and wider Californian operations.
The company also said that it would make its supply chain carbon neutral by 2030, for its business operations and product releases.
While that means iPhone supply emissions will be offset, and the company already buys PPAs for its data center operations, it is not clear if the emissions from acquiring servers are included.
DCD has asked Apple for clarification.
"We are firmly committed to helping our suppliers become carbon neutral by 2030 and are thrilled that companies who've joined us span industries and countries around the world, including Germany, China, the US, India, and France," said Lisa Jackson, Apple's VP for environment, policy, and social initiatives.
Apple also said that it would research other energy storage solutions for future projects.
When it began working on building a data center in Galway, Ireland, the company gave less than €200,000 ($235,000) to startup SeaPower to research harnessing sea energy in Galway Bay.
"They partially funded the project, and in return what Apple would get is a of futures contracts in energy - they get the right of first refusal on any energy that we produce when we eventually did commercialize," SeaPower's Cian Murtagh explained to DCD. "They were aware that we were like five to seven years away from actually commercializing the tech, but just wanted to support the testing, and also probably just to make themselves look good because they were going to be massive energy users."
The data center project ultimately failed after a lengthy battle with locals and numerous legal challenges. "They gave us the money for that project, but now the project is finished," Murtagh said.