Clean infrastructure firm TerraScale plans to deploy Ambri's Liquid Metal Battery technology at its planned data center campus in Reno.
The announcement comes just days after TerraScale hired Google's head of global data center operations Michael Coleman as its chief innovation officer.
A lithium alternative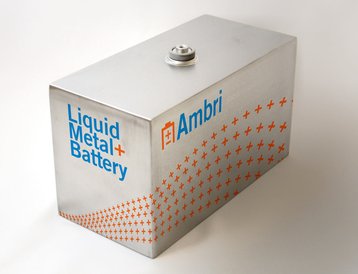 Set next to the Tahoe Reno Industrial Center - home to Switch, Apple, and Google data centers, as well as Tesla's Gigafactory - TerraScale's Energos Reno Project has equally lofty ambitions.
The company hopes to build a 3,700-acre mixed-use development within ten years, which will include data centers and a logistics hub with 500MW of renewable power generated on-site and distributed by a microgrid.
The site currently has a fiber optic trunk line installed, 23MW of geothermal power, and 10MW of solar power. In its first phase, the company hopes to develop a 20MW modular data center and a 600kW pre-fab data center, in collaboration with undisclosed data center partners.
As part of that, TerraScale and its partners plan to use Ambri batteries "to enable high-volume, reliable, and resilient energy storage with potentially the lowest levelized cost of storage in the industry," said Danny Hayes, TerraScale CEO. "TerraScale is very excited to deploy Ambri's technology into our Energos Reno project."
Adam Briggs, Ambri's CCO, added: "The collaboration is underway and includes delivery of 250MWh of Ambri systems to TerraScale's first project in Reno, Nevada starting in 2021.
"The Ambri systems are particularly well suited for the project's high-desert operations, for the shifting of its large amounts of renewable solar load, and for its grid-system peak shaving capability."
The deal follows a similar 200MWh order by NEC last year, with the Japanese company at the time entering into a joint venture with Ambri to use NEC's AEROS operating system and controls platform on the batteries. Earlier this year, however, NEC wound down its Energy Solutions business, with the company blaming the pandemic - but industry analysts pointing to deeper troubles.
Ambri is still an early-stage business, formed in 2010 out of a liquid metal battery project started at MIT by Professor Donald Sadoway. It has since raised money from Khosla Ventures, Bill Gates, and TOTAL SE.
The company's batteries utilize a liquid calcium alloy anode, molten salt electrolyte, and a cathode made of solid particles of antimony. When the cell is heated to 500°C (932°F), the metal and salt melts, creating a liquid-metal battery. The non-flow battery has a claimed 20-year life expectancy.
It also means a significantly heavier battery than the lithium-ion tech in cars and portable technology, but is purely targeted at stationary battery storage markets.