T5 Data Centers has acquired a data center in Newark, San Jose, spanning 128,000 square foot (11,900 sq m) with 17MW of critical power.
The company described the previous owner as a "Fortune 100 enterprise," but images of the T5@Silicon Valley facility match with that of a data center previously owned by Apple.
Not that Newark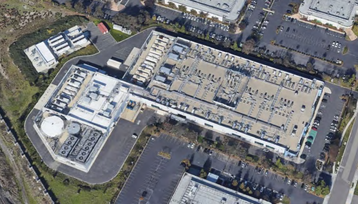 "We're excited to bring T5's lifecycle solutions to one of the top data center markets in the country," said Pete Marin, T5's President and CEO.
"Not only will our new facility showcase our best-in-class development solutions, but this facility also gives T5 a solid position in one of the most supply-constrained data center markets in the U.S."
The company plans to develop an additional 32.1MW, 180,000 square foot (16,800 sq m) expansion at the site. The data center features flexible data hall density to support variable loads, renewable solar solutions, and N+1 mechanical cooling.
A specific address of the facility was not shared, but an image provided by the company (pictured) matches a data center at 39800 Eureka Drive.
That facility was originally built by communications company MCI WorldCom, but was never finished when WorldCom entered into financial difficulties - ultimately declaring bankruptcy in 2002 amid an accounting scandal.
The site then was picked up by Stream Realty Partners for an unknown sum, who in 2006 sold the nearly-completed data center to Apple for an estimated $45m-$50m. Apple job reviews for the facility exist as of March 2020, and the site is referenced in its 2020 sustainability report. It is believed Apple will stay on as a tenant.
Sales documents for the facility provide additional information on the site, noting that the building was expanded in 2009 to add an extra 26,000 square foot.
In total, the site has 75,760 sq ft of white space, is capable of supporting 196.7 watts per sq ft, and has 3,700 tons evaporative chilled water cooling.