Russian data center firm 3data and investment firm Alias Group are to build a data center in Krasnodar.
This month 3data announced a new facility will be launched in the Krasnodar Territory. The company said the facility will be launched towards the end of 2023 using a franchise model with investment company Alias Group.
Krasnodar is an area in southeastern Russia, bordering Georgia and the Black Sea.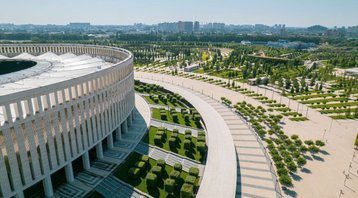 Cnews reports that in the first phase, around 200 server racks will be put into operation. Alias ​​Group will build the facility, 3data will provide its trademark, expertise and support for all processes including site recommendation and sales. The companies are currently considering several possible sites in Krasnodar.
"We are seeing a sharp increase in demand for Russian data centers and cloud services. This requires us to quickly build up capacities to meet the needs of customers in various cities of Russia. We gladly supported the Alias ​​Group's initiative to build a new data center. As part of the franchise agreement, we are ready to share all our knowledge and experience and help partners provide a high level of service for customers," said Ilya Khala, CEO of the 3data data center network.
3data currently has a number of facilities across Moscow and Omsk, with facilities in development in Vladivostok and Irkutsk. The data center in Krasnodar will be the sixth 3data project implemented under the franchise model.
"Alias ​​Group brings together assets from various sectors of the economy: from construction to the service sector. Now we are launching a new direction - the construction and management of commercial data centers. We consider the development of regional data centers to be a promising business," added Nadezhda Barachina, CEO of Alias ​​Group.
Sanctions imposed on Russia in the wake of its invasion of Ukraine have impacted the country's data center industry. The country faces a shortage of IT hardware as well as an exodus of IT workers.
Companies including Yandex and SberBank have been forced to sell off non-core parts of the business. International firms have also been winding down, halting, or selling off operations in Russia. Last month Schneider Electric announced it was to sell Russian operations to local management.
At a recent ComNews event local operators said they are or would consider building facilities outside the country -- yet continue serving Russian companies -- in order to avoid supply chain issues.
Dmitry Isaev, director of cloud solutions at Softline Global Services, said that in the next three months Softline will launch three data centers outside of Russia. He did not name the countries, but said that one of them is nearby, and two further abroad. "All countries are friendly to the Russian Federation," he added.
Softline currently has a data center in Kazakhstan, but Isaev said foreign data centers will be deployed primarily towards the Russian market.
"There is a shortage of equipment in Russia. We have enough for a year, but what will happen after is unknown, and we are launching data centers for a long time. In the current situation, we can assume that vendors will never return. Based on this, we must take such steps to ensure the continuity of business located in Russia," he said.
Dmitry Yusupov, head of the IXcellerate business development group, said that at the moment the company has no plans to expand the service to other countries, but would do so in the right situation.
"If a customer contacts us and wants us to build a data center for him in one country or another, and at the same time he is ready to invest in it, in a year and a half we will build a data center outside of Russia," he said.
More in Construction & Site Selection