Keeping IT Cool
The hit series on data center cooling technology
A deep dive into the future of thermodynamics for information technology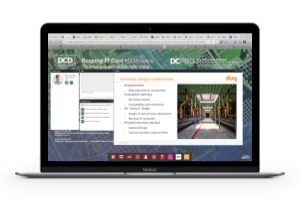 Cooling has always been a critical element of data center optimization, especially in terms of costs and risk mitigation, but it now plays a key role in both future-proofing the data center and enabling its transition from being a burden on society to a benefit. With the next generation of chips already promising to challenge the world of cooling, data center operators are being forced to consider what technologies they will need to implement to overcome the heat that new IT equipment produces, and to continue to align with sustainability goals.
This broadcast series provides a global deep dive into the latest data center cooling technologies and innovations, and a much needed debate on the future of managing higher density deployments. How will the next generation of chips be designed and what will this mean for the future of cooling? With liquid cooling now starting to bleed over into the enterprise market, has this technology finally transitioned from an impossible concept to the long-awaited silver bullet, and what does that mean to the worlds of IT and mechanical electrical systems? We ask our global experts what they think as we dissect all things cooling.
Thought Leaders

Knowledge Partners

Industry Partners

Global Content Partner
As a series subscriber, you will...
Learn

from industry experts across 17 episodes, available to stream live or on-demand

Discover

additional resources, like whitepapers & fact sheets, in our resources hub

Network

with your peers in our exclusive data center cooling networking group

Exchange

ideas and knowledge with our virtual roundtables, led by industry experts
Liquid cooling will come, the question is when and to what extent. The challenges of this are phenomenal. Traditionally you've had the IT completely separate from your mechanical electrical systems. With liquid going inside the IT equipment now you have to commission them together, install them together - these are two different worlds who have no idea what the other one is doing that are coming together.

Leading Cooling Consultant & Trainer

Today one of the problems with liquid cooling is that everybody kind of does their own thing. And there's not necessarily any standardisation around this, any plug and play. One of the things we need to address are some of those compatibility issues that would make it easier for people to actually adopt liquid cooling.

Industry Cooling Expert

Everybody's talking about liquid cooling, everybody's saying it's the next big thing. But there's still a really important place in the market for really efficient air cooled solutions. And liquid cooling isn't the silver bullet that everybody thinks it is. You've got hybrid scenarios, and you need a variation of the two. There is space for both players in the market, so we do need to work together.

Leading Cooling Solution Provider