GreenSquareDC's WA1 hyperscale data center, located in Perth, Western Australia, will be the only Australian AI-ready data center with the capability to handle the anticipated rapid adoption of large language model (LLM) based AI, and will do so more economically and sustainably than existing data centers, according to GreenSquareDC founder and CEO, Walt Coulston.
AI computing requires high-performance GPU processors that use far more power and create significantly more heat than traditional data center chips. Legacy data centers built for general-purpose computing, are not capable of accommodating GPU servers, their densities or storage capacity.
Moreover, traditional air-cooling is unable to dissipate the heat generated by these extraordinarily powerful processors.
GreenSquareDC's 96MW WA1 data center is designed to be both AI-ready and highly sustainable, with 'ultimate flexibility' data halls that allow customers to deploy into either air-cooled, direct-to-chip and/or immersion cooling environments.
This will enable customers to scale up as their workloads evolve, ranging from standard 5kw to 10kw racks, all the way up to 50kw and beyond, which is perfect for AI-capable workloads.
According to Coulston, this means redesigning everything from backup power systems and generators to liquid-based cooling systems, as well as focusing on new locations that provide cheaper and greener energy forms.
While still in its relative infancy, large language-based AI is changing design requirements for the next generation of data centers looking to cater to this growing market. It's also influencing where they are built.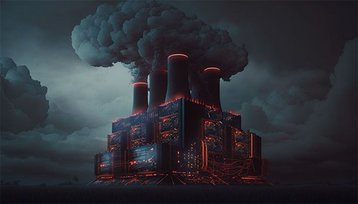 There is a growing consensus that the widespread adoption of large language model AI will accelerate the decentralization of the data center landscape, driving development away from the traditional data center hubs and into new markets such as Perth, where cheap, green energy is assured.
GreenSquareDC genuinely believes that Perth will become a clean, green data center superpower. Key to this is Western Australia's power pricing competitiveness.
"When asked recently by GreenSquareDC to compare 100 percent certified green energy in both Perth and Sydney, a major Australian power utility company responded with a 54 percent price differential between the two cities. This equates to an approx. $55m annual price saving in energy alone, based upon our total 96MW capacity at WA1 In Perth," said Coulston.
"This entire saving goes straight through to our customers. Not only is WA competitive against other Australian markets, but it is also globally competitive, with the cheapest natural gas price in the entire OECD via its smart gas reserve policy, which means WA is not affected by global volatility."
WA also has arguably the most renewable energy reserves of anywhere on earth. The state is home to many existing large-scale renewable projects, with a total planned capacity of over 12,000 MW. GreenSquareDC is already planning a +150MW hybrid wind and solar farm covering over 3,100ha in regional WA, which will help support projects such as WA1.
Western Australia's multiple international submarine cables, including the recently landed Oman Australia Cable, guarantee WA's connectivity to major digital global economies of Southeast Asia, the Middle East, and Europe.
"Western Australia is an ideal location for us – the cheap, green energy on a highly resilient existing grid, and supportive policy environment mean we can offer customers across APAC an AI-ready data center, which helps, rather than hinders, them achieve their decarbonization and wider ESG goals," added Coulston.
"WA1 will source energy from 100 percent renewable sources, run its backup generators on HVO Fuel and aims to be the first 'water positive' hyperscale data center operator in the APAC region, in part by using Aquifer Free Cooling (AFC), which can provide for up to 40MW of free/waterless cooling.
"All this adds up to one of the world's most sustainable data centers, providing customers with sustainable computing power that will help them capitalise on the AI opportunity without costing the earth."
Read more about GreenSquareDC at: https://greensquaredc.com/
More from GreenSquareDC
As the world seeks to decarbonize, Western Australia can help meet increasing data demands while reducing emissions.

CK Property-linked GreenSquareDC behind project in Western Australia

New company gets OK for first facility