A Zeittec-built modular data center for the Public Ministry of Mato Grosso (Ministério Público do Mato Grosso do Sul, or MP-MS) in Campo Grande, western Brazil, has been launched.
First announced in February 2022, the new data center covers 72 sqm (775 sq ft) of usable space, with a total area of 340 sqm (3,659 sq ft), and is a type B vault room, meaning it is ruggedized against fire and other impacts.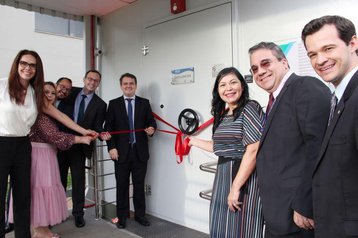 The inauguration was attended by attorney general Alexandre Magno Benites de Lacerda, and the president of the Strategic Committee for Information Technology (CETI), Cristiane Mourão Leal Santos.
"The data center not only represents an efficient and modern structure for managing our information technology portfolio, but also, and above all, an important device for safeguarding our data. A great incentive for us to continue working in favor of our society," said Santos.
The data center will provide infrastructure for the daily work of around 2,500 users, as well as a 'high availability of services for the entire society of Mato Grosso do Sul."
The facility will use precision air conditioning and will have Tier III-standard electrical redundancy.
Zeittec has deployed or announced the construction of several modular facilities across Brazil in recent months. In September 2022, the company built out a 35 sqm (376 sq ft) data center for Sebrae-PR, the Brazilian Micro and Small Business Support Service in Curitiba. In November of that same year, the company announced plans to build a data center for the Federal University of Espirito Santo which will eventually span around 300 sqm (3,230 sq ft).
At the start of this year, the company announced that it would be building a data center for the Santos Port Authority, to be completed in mid-2023
Zeittec focuses on turnkey data center projects for clients including retrofits, modular, and containerized offerings, and has been operating since the early 2000s.