Brazilian firm Zeittec is to build a new data center for the Santos Port Authority (SPA)
A construction contract for a new data center has been signed between Zeittec and the SPA, the state-owned company that manages the Port of Santos in the state of São Paulo.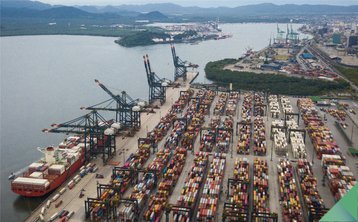 The construction of the Safe Room should start in January, and the forecast is that the works will be completed in mid-2023.
"We are going to build a robust and resilient site, with redundant UPSs and generators to provide high availability and security in data processing," said Zeittec's commercial director, Claudenir de Oliveira.
The company said the SPA Safe Room will be a protected environment against fires – including walls certified by NBR 10.636, capable of resisting fire for up to 120 minutes (CF 120) – and break-ins. It will feature CAT 6A structured cabling and OM4 laser multimode optical fibers.
The new Safe Room is a strategic part of the digitalization project of Porto de Santos. The Port Authority has been implementing solutions including the digitalization of ship traffic information, the monitoring of the port region using drones, and the roll-out of its own 5G network to enable IoT applications to optimize port logistics and cargo flow.
Founded in the early 2000s, Zeittec is focused on turnkey data center projects for clients including retrofits, modular, and containerized offerings. The company completed a facility for the Brazilian Institute of Geography and Statistics (IBGE) in Rio de Janeiro in December 2021 that will house all the data and applications for the country's 2022 population census.
In 2021 it also undertook projects for Brazil's Superior Court of Justice of Rondônia in Porto Velho, the Águia Branca transport group in Espírito Santo, and for Swiss manufacturer Bühler Group's operations in Curitiba.
Last year the company announced it was to build a data center for the Public Ministry of Mato Grosso do Sul (Ministério Público do Mato Grosso do Sul, or MP-MS) in western Brazil; it is also developing a facility for Sebrae-PR, the Brazilian Micro and Small Business Support Service in Curitiba, and the Federal University of Espírito Santo (UFES).
A version of this story appeared in our Spanish edition.