Brazilian firm Zeittec has built a new data center for Sebrae-PR, the Brazilian Micro and Small Business Support Service in Curitiba.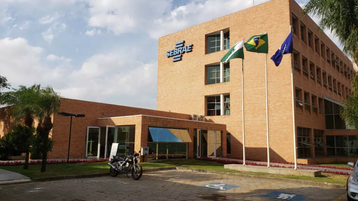 The new data center measures 35 sqm (378 sq ft) and was built in three months. The facility includes a fire detection and fighting system with Novec 1230 gas, which does not harm servers; a generator to avoid downtime in case of blackouts; and redundant UPSs and air conditioning machines, so that secondary equipment takes the lead in the event of failures.
Zeittec prepared the environment by building fire-resistant walls, raised floors, lowered ceilings, fire doors, flame-retardant paint, and all the structural requirements necessary for the installation of safe Data Centers. Zeittec also carried out the moving of legacy IT equipment to the new Sebrae Data Center.
"One of our concerns was the energy efficiency of the Data Center. Therefore, we use in-row air conditioning systems, with cold aisle confinement to reduce energy consumption, since refrigeration is usually the villain in these installations," said Zeittec engineer Fabrício Costa, responsible for the work. "It was another turn-key project where all systems were supplied and installed by Zeittec."
Sebrae is a non-profit private entity aiming to promote the sustainable and competitive development of small businesses in Brazil.
Founded in the early 2000s, Zeittec is focused on turnkey data center projects for clients including retrofits, modular, and containerized offerings. The company completed a facility for the Brazilian Institute of Geography and Statistics (IBGE) in Rio de Janeiro in December 2021 that will house all the data and applications for the country's 2022 population census.
Last year it also undertook projects for Brazil's Superior Court of Justice of Rondônia in Porto Velho, the Águia Branca transport group in Espírito Santo, and for Swiss manufacturer Bühler Group's operations in Curitiba.
This year the company announced it was to build a data center for the Public Ministry of Mato Grosso do Sul (Ministério Público do Mato Grosso do Sul, or MP-MS) in western Brazil.
A version of this story appeared on our Brazilian edition.