Vodafone has deployed six of Oracle's on-premise dedicated OCI cloud regions at three of its data centers in Europe.
Dedicated Region Cloud@Customer is Oracle Cloud Infrastructure deployed in the customer's own on-premise data center as a managed service and single-tenant cloud, with all the same services as its public cloud offering.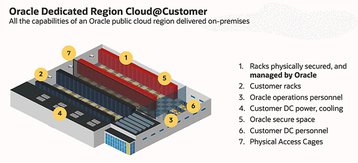 At Oracle Cloud World London last week, Pedro Sardo, IT operations and technology director at Vodafone, announced that the company had completed the deployment of the Dedicated Regions in pairs across its core European facilities.
The partnership was first announced in June 2022, with Oracle saying at the time that Vodafone had entered into a 'multi-year agreement' that would see the telco 'modernize and migrate a large number of its systems' to OCI Dedicated Region.
Six regions are deployed in pairs at facilities in Ireland, Italy, and Germany. Sardo said the first Dedicated Region – a Gen1 version – was deployed in Milan in September. The other five regions – Gen2 versions with smaller footprints – all went live earlier this month.
Sardo said bringing the cloud regions into the company's data centers provides the telco with the benefits of public cloud services and scale while allowing it to migrate applications in a way and timeline that suits the company. The lack of latency means applications can be migrated in parts, rather than a wholesale lift and shift.
"OCI is, we think, probably the best solution for us in terms of how it enables us to drive change, but at the pace that the business can afford, can absorb, and still enables us in the future to really deliver our public cloud and our cloud-native strategy," he said.
The company said so far it has migrated around 150 of its 6,000 databases and is migrating up to six per day.
Oracle first introduced Dedicated Regions in 2020; customers include Japan's Nomura Research Institute (NRI), the Government of Bangladesh, and the Government of Oman.
Though pay as you go, Oracle requires a 'minimum commitment' to deploy Dedicated Regions. The initial larger 50-rack generation reportedly required commitments of around $6 million per year over a three-year period, but the new smaller generation – with footprints of 16 racks – reportedly requires around $1 million a year. The regions are claimed to be scalable up to 450 racks or more.
Amazon Web Services, Microsoft, and Google all have their own on-premise offerings, but these generally offer a limited number of services compared to the public regions.