Oracle has launched new versions of its on-premise OCI Dedicated Region infrastructure, and announced NRI and Vodafone as customers.
Dedicated Region Cloud@Customer is Oracle Cloud Infrastructure deployed in the customer's own on-premise data center as a managed service and single-tenant cloud. Microsoft, AWS, and Google all offer similar on-premise compute offerings that can be managed through cloud dashboards.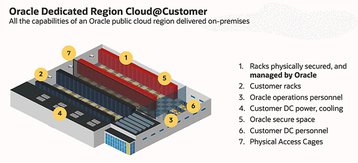 The company has announced a lower entry point for OCI Dedicated Region and a preview of Compute Cloud@Customer services, bringing more than 100 OCI public cloud services into customers' data centers.
Oracle said the new OCI Dedicated Region requires 60-75 percent less data center space and power on average, with a 'significantly lower' entry price of around $1 million a year for a typical customer. The new OCI Compute Cloud@Customer is a rack-scale solution meant for smaller environments than OCI Dedicated Region.
"Customers have told us that they need cloud without compromise with privacy, security, data residency, and data sovereignty. Current solutions only address a subset of these needs, such as providing limited cloud capabilities or giving a few public cloud locations," said Clay Magouyrk, executive vice president, Oracle Cloud Infrastructure. "Oracle's approach to distributed cloud addresses all these customer requirements with a full portfolio of different deployment models from public cloud to full cloud on-premises."
Oracle this week announced that Nomura Research Institute (NRI) has implemented a second OCI Dedicated Region at its Osaka data center, following the successful adoption at its Tokyo data center.
NRI built a service platform and disaster recovery environment at the Tokyo and Osaka sites for the company's T-STAR asset management solution using OCI.
"After our first successful implementation in our Tokyo data center, we expanded the use of OCI Dedicated Region in Osaka data center to run our SaaS solutions for the financial industry," said Tomoshiro Takemoto, senior executive managing director, NRI. "OCI has helped us build a distributed cloud environment within our Tokyo and Osaka data centers, allowing us to leverage the high-performance and flexible resources of OCI and maintain a high level of financial governance and availability that we require."
"With OCI Dedicated Region, we built the T-STAR service platform and a disaster recovery environment, which has allowed us to smoothly migrate to a cloud architecture and improve performance, while maintaining a high level of financial governance," added Kazuya Kobayashi, senior managing director and division manager, Asset Management Solutions, NRI.
Meanwhile Vodafone has also announced a partnership with Oracle to modernize the operator's European IT infrastructure and accelerate its transition to the cloud.
Under the multi-year agreement, Vodafone will modernize and migrate a large number of its systems to OCI Dedicated Region within its main data centers that manage its European IT and network operations. This will enable the telco to modernize thousands of Oracle databases as well as to support and scale new applications.
"Our collaboration with Oracle supports our vision of becoming a technology communications company," said Scott Petty, chief digital & IT Officer, Vodafone. "The agreement enables Oracle to bring its entire portfolio of cloud services directly into Vodafone data centers. This includes the same architecture, software, services and control plane used in OCI public cloud. The flexibility offered by OCI enables us to build a robust, secure, and extensible cloud platform in our own data centers, while also providing the operational agility and scalability required to support the growth and diversification of our business."
Telefónica is also a customer of the Cloud@Customer service.