Oracle has announced that its Cloud@Customer option launched in 2016, now supports Dedicated Regions. The upgrade means that customers can now use Oracle cloud services entirely located in their own on-premise data center, but managed by Oracle.
Dedicated Region Cloud@Customer runs all of Oracle's public cloud services but is installed in dedicated cabinets in the customers' data center, which are managed by Oracle, and can connect seamlessly with the Oracle public cloud globally. It's only for big customers, as it starts at $500,000 per month or $3 million per year, and in fact requires a minimum commitment of $6 million per year. Oracle says this is "a small fraction of what customers would have to pay for a one-off region from other cloud providers. The news was announced by Larry Ellison on a Zoom call with the Oracle marketing channel, Oracle Live in which the Oracle made a characteristically aggressive comparison with the market leader, AWS.
All the Cloud in a rack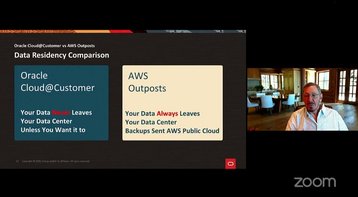 "There's nothing remotely like Dedicated Region Cloud@Customer in the industry," said Ellison in the Zoom briefing. "If it's in our public cloud it's in the Dedicated Region. Period. And all the costs are identical."
By comparison, Amazon Web Services' on-premises cloud service AWS Outposts only offers a limited subset of the AWS cloud services, with fewer service level agreements (SLAs) said Ellison. He also claimed that Cloud@Customer is "fifty times faster" than AWS Outposts, and that Oracle's on-prem and cloud options are more compatible with each other than AWS's, because Oracle runs the two services on identical hardware while - according to Ellison - AWS does not.
Two customers have already signed up for the service, Nomura Research Institute in Japan and Oman Information and Communications Technology Group in the Middle East.
Oracle's Dedicated Region (PDF) will also be updated as time goes on with added applications in the future; as soon as the said applications are available on Oracle's public cloud. Oracle also said it was upgrading its Exadata Cloud@Customer platform (which is Oracle's current on-premises platform) with Oracle's Autonomous Database, a self-repairing system that uses AI.
The major selling point, Oracle says, is that data need never leave the customer's data center in order to use Oracle's cloud services; bypassing a lot of the concerns surrounding data localization.
Despite installing hardware that remains in the user's data center, the service is billed on a pay-as-you-go basis. The starting figure of $500,000 per month actually masks a steep ramping up. Questioned by The Register, Oracle revealed that it "requires a minimum commitment of $6M/year in consumption over a three-year period."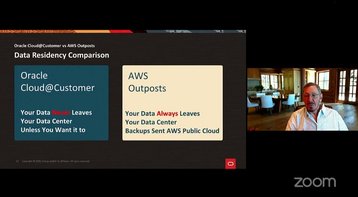 An Oracle spokesperson said: "This is ideal for enterprises that find it challenging to move their mission-critical database workloads to the public cloud due to data sovereignty and regulatory requirements, security and performance concerns, or because their on-premises applications and databases are tightly coupled."
Juan Loaiza, executive VP of mission-critical database technologies at Oracle, said: "Exadata Cloud@Customer has been successfully deployed at hundreds of customers, including large financial services companies, telecoms, healthcare providers, insurers, and pharmaceutical companies worldwide to modernize their infrastructure and lower costs by up to 50 percent.
"We are now bringing Oracle Autonomous Database to customer data centers—freeing DBAs and developers from mundane maintenance tasks and enabling them to innovate and create more business value."
The database's autonomous operations include database provisioning, tuning, clustering, disaster protection, elastic scaling, securing, and patching.
Both AWS and Microsoft have their own on-premises solutions, but AWS made news on Tuesday after AWS Outposts rolled out an automated database service much like Oracle's offering. Microsoft's Azure Stack also offers similar capabilities but, unlike Oracle, both companies only have a limited version for on-premises workloads.
According to Larry Ellison's Zoom pitch, the Cloud@Customers brand is essentially every application on Big Red's Cloud rolled into a data center. This makes it ideal for customers who can't risk or are unwilling to move data abroad, this could be mission-critical workloads or due to state regulations.