Deutsche Bank has struck a deal with Google Cloud to move most of its workloads and data over to the tech giant's cloud platform.
For the past five months, the German bank has been in talks with Microsoft, Amazon, and Google for a contract to help it overhaul its IT infrastructure. Google Cloud eventually won out in the months-long bidding war and will be signing a multi-year (two-year) contract in the months ahead.
Banking on the cloud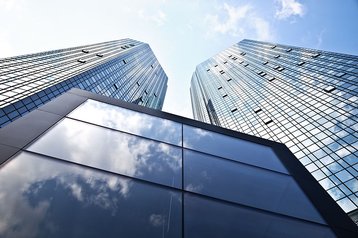 The win is significant for Google as Amazon Web Services has dominated platform as a service cloud, with Google lying third after Microsoft Azure, and banks are normally conservative in choosing leading providers,. Deutsche says the move will "accelerate its cloud transition and build on the engineering capabilities of both companies."
The multi-year agreement will take place over several phases as both Google and Deutsche navigate data compliance regulations surrounding data privacy and security.The bank says it chose Google Cloud because of data science, artificial intelligence, and machine learning resources which can, for instance, help treasury clients with day-to-day tasks such as cash flow forecasting and improved risk analytics
Christian Sewing, CEO, Deutsche Bank said: "The partnership with Google Cloud will be an important driver of our strategic transformation. It demonstrates our determination to invest in our technology as our future is strongly linked to successful digitization. It is as much a revenue story as it is about costs."
"This cooperation with Google Cloud is a significant step forward for our technology strategy, and will transform the way we produce and deliver our client services," added Bernd Leukert, Deutsche Bank's CTO. He said: "By bringing together the best of both cultures, we look forward to creating new business models leveraging artificial intelligence, data analytics, and more, with an established technology and innovation leader."
In February, Deutsche Bank invited Microsoft, Google, and Amazon to pitch for their cloud services and other project work as part of the bank's plans to migrate to the cloud over the next two years.
According to The Register, the move came as Deutsche attempted to reverse a fall in revenue due to 'regulatory problems and a collapsing share price.'
Deutsche Bank has lost almost €10bn in revenues since 2015, down from €33.5bn in 2015 to €23.165bn in 2019, and has faced $18.3bn in regulatory fines since 2008.
Reuters reported that it was struggling with its outdated tech infrastructure, and that it was considering to set up a "corporate credit marketplace" open to companies and other banks to apply for loans. It is unclear how far this plan has made it off the drawing board.