Nick Read is to step down from his role as Vodafone Group's chief executive.
His departure follows a difficult period for the operator which has seen its share prices struggle, while management at the company has faced backlash from investors.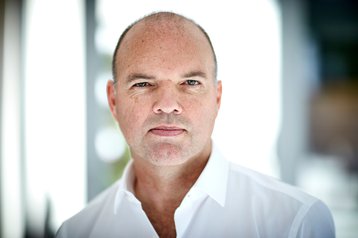 Read will step down from his position on December 31, 2022, and will remain as an advisor to the board until March 31, 2023.
His departure comes after four years at the helm, and he will be replaced initially by Margherita Della Valle, who will fill in on an interim basis. She will also continue as the Group's Chief Financial Officer.
In a statement today, Vodafone said it's already begun the process of finding a new chief executive.
For Read, his exit comes weeks after Vodafone lowered its outlook for the full year, and announced plans to cut more than €1 billion ($1bn) in costs by the start of its 2026 financial year.
The operator adjusted its earnings guidance to €15-15.2bn ($15.6-15.8bn), down from €15-€15.5bn.
His departure from Vodafone appears to be mutual, with Read spending 20 years at the company.
"I agreed with the Board that now is the right moment to hand over to a new leader who can build on Vodafone's strengths, and capture the significant opportunities ahead," said Read.
Pressure has been building for some time on Read, with the company attempting to consolidate in recent years, but has struggled with getting some deals over the line.
Vodafone was keen to strike a deal with MasMovil in Spain, only for the operator to pen a deal with Orange instead. Meanwhile, in the UK, Vodafone is still locked in advanced talks with Three UK over a potential merger.
There have, however, been some deals completed in recent times, with Vodafone acquiring Portuguese operator Nowo from MasMovil, while it exited the Hungarian market completely, selling its Hungarian business unit for $1.8bn in August.
Its biggest deal in recent times is the selling off of some of its Vantage Towers unit, as it created a new joint venture with KKR and Global Infrastructure Partners (GIP) in the process.
The deal, which values the tower's unit at €16.1 billion ($16.1bn) gives the operator €3.2 billion ($3.2bn) in minimum net cash proceeds, which the operator will use to pay down its debt. The transaction will have to get regulatory approval and is expected to close in the first half of 2023.
Read's Voda departure "no real surprise"
The departure of Read comes as no surprise, says CCS Insight director, consumer, and connectivity Kester Mann.
"Nick Read's departure is no massive surprise – he had come under growing pressure from disgruntled shareholders amid disappointing stock performance," said Mann.
"During the latter part of his tenure, Mr. Read increasingly sought mergers and acquisitions. Vodafone recently agreed on a co-control deal for its towers business and is in discussions with Three UK. But deals in targeted markets such as Spain, Italy, and Portugal have so far proved elusive."
Mann says it won't be easy for his replacement, due to several factors.
"The new CEO will face the same tough inbox, with geopolitical uncertainty, rising costs, tough regulation, strong competition, and questions over return on investment for the sector high on his or her agenda."
More in Workforce & Skills