A US government investigation into the ongoing semiconductor supply shortage has found that companies that rely on chips have just a few days' worth of supply.
More than a year into the chip shortage, and the "semiconductor supply chain remains fragile," while "demand continues to far outstrip supply," the government warned.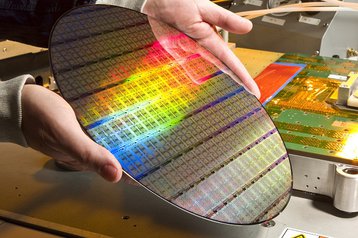 First, the report aims to understand how we got here: Already in 2019, chip manufacturers were struggling to obtain manufacturing equipment and components used in electronic assembly such as diodes, capacitors, and substrates.
The market was growing fast, with cars becoming more intelligent, and 5G rollouts beginning. Then Covid-19 happened, simultaneously shutting down factories and supply chains, while dramatically increasing demand - particularly for home IT and data center servers.
On top of that, there were a series of unrelated black swan events, including a storm in Texas taking out Samsung, NXP, and Infineon fabs; a fire at Japan's Renesas fab (and another at ASML); power cuts and droughts in Taiwan; and a wayward balloon. Just this week, earthquakes shut down two Toshiba chip fabs.
With the scene set, the US Department of Commerce surveyed "nearly every major semiconductor producer" and major customers in key industries to understand the scale of the problem.
They found that demand for chips was 17 percent higher in 2021 than 2019, but that supply did not increase by as much.
The median inventory of semiconductor products highlighted by buyers has fallen from 40 days in 2019 to less than five days in 2021. In key industries, that number is smaller still.
"This means a disruption overseas, which might shut down a semiconductor plant for 2-3 weeks, has the potential to disable a manufacturing facility and furlough workers in the United States if that facility only has 3-5 days of inventory," the department said.
Specific products had worse supply chain issues than others, the department found.
In particular:
Microcontrollers that are primarily made of legacy logic chips, including, for example, at 40, 90, 150, 180, and 250 nm nodes
Analog chips including, for example, at 40, 130, 160, 180, and 800 nm nodes; and
Optoelectronics chips including, for example, at 65, 110, and 180 nm nodes.
Wafer production was an issue across the board, "which requires a longer-term solution," the department said.
Immediate relief is difficult, as new fabs take years to set up. However, the government touted its efforts to work with industries like the automotive sector to help find short-term solutions like new partnerships and using different chips to meet demand.
With demand growing, and competition increasing with Intel entering the contract fab game, manufacturers have announced enormous manufacturing spending sprees. In its 2021 report, the Semiconductor Industry Association forecast that semiconductor industry capex would reach close to $150 billion in 2021 and over $150 billion in 2022. Prior to 2021, the industry never spent more than $115 billion on annual capex.
These sites will take years to set up, but previously announced fab expansions are expected to come online as early as the second half of 2022, helping somewhat.
The department used the report as an effort to push for the $52 billion in domestic semiconductor funding included in the U.S. Innovation and Competition Act. The Act was passed by the Senate last year, and also included $190 billion for technology and research funding.
Simultaneously with the report, the House introduced its version of the act, calling it the 'America Competes Act.' It drops the $190bn funding, but keeps the chip incentives. It also has $45bn to support supply chain resilience and manufacturing of critical goods, industrial equipment, and manufacturing technology.
From the $52bn, some $22bn would be spent this year. $19bn would be allocated to "semiconductor fabrication, assembly, testing, advanced packaging, or research development." $2.5bn would be used to set up a "National Advanced Packaging Manufacturing Program." $2bn would go to national semiconductor technology centers that fund projects and startups.
"Today's introduction in the House of Representatives of the America Competes Act is an important step in setting up a conference with the Senate so that we can finally get a bill to President Biden's desk to sign," US Sen. Mark R. Warner said. 'Competes' is expected to be voted on as soon as next week.
Other semiconductor incentives were included in Biden's Build Back Better bill, but that bill fell apart in late December. "I'm confident we can get pieces, big chunks of the Build Back Better law signed into law," Biden said this week.