With a Democratic senator saying that he will not support the Build Back Better bill, a number of incentive and funding programs are at risk of falling apart.
Joe Manchin's statement that he will not vote for President Biden's flagship legislation will impact several semiconductor manufacturing programs during an ongoing chip shortage.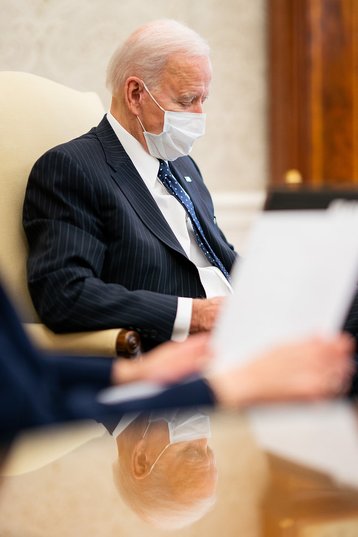 The $1.7 trillion-over-10-years BBB bill was set to approve $150m "for the creation of a new Manufacturing USA Institute that is focused on semiconductor manufacturing."
It also was set to include the Advanced Manufacturing Investment Credit program, a modified version of the Facilitating American-Built Semiconductors (FABS) Act.
This would create a new investment tax credit for the construction of a facility whose primary purpose is the manufacture of semiconductors or semiconductor tooling equipment. The construction of the facility must have begun before January 1, 2025.
"This credit will provide a strong incentive for the production of semiconductors and semiconductor manufacturing equipment in the United States and make the US more competitive in this vital industry," Ajit Manocha, CEO of semiconductor industry association SEMI, said this October.
"The inclusion of semiconductor tool manufacturing facilities is particularly important, as lead times and demand for new tools grow. In addition, the delayed requirement to amortize research expenses and the maintenance of the Foreign-Derived Intangible Income deduction are other important elements that will preserve and improve the competitiveness of the industry in the United States," Manocha continued.
The Advanced Manufacturing Investment Credit was also set to provide credits for facilities involved in the development of renewable technologies, including solar polysilicon, wafers, cells, and modules, as well as wind blades, nacelles, towers, and offshore foundations.
The wider BBB bill planned to provide billions in funding for energy efficiency programs, renewable fuels development (including hydrogen), renewable electricity construction, and lead pipe removal.
It also hoped to improve clean air and environmental justice, and provide funding for government health-insurance programs, expand tax credits for low-income families, and provide government-funded universal preschool.
It was to be primarily paid for by raising taxes on the very wealthy and corporations.
The Build Back Better bill was originally set to be much larger than the most recent version, but was repeatedly cut back due to Democratic Senators Joe Manchin and Kyrsten Sinema saying that it needed to be reduced in scope.
The bill was repeatedly pared back with Manchin regularly consulted on the reworked version. This week he met with President Biden several times and appeared ready to support the bill he had worked on.
It, therefore, came as a surprise when the West Virginia senator appeared on Fox News this Sunday to say he could not support the bill.
"If I can't go home and explain to the people of West Virginia, I can't vote for it," he said. "And I cannot vote to continue with this piece of legislation. I just can't. I've tried everything humanly possible. I can't get there."
Manchin - who has raised millions from Republicans and big business donors since delaying the bill, and is a coal baron - did not tell the White House about his decision.
White House press secretary Jen Psaki said that Manchin's comments "are at odds with his discussions this week with the President, with White House staff, and with his own public utterances."
She added that his new comments "represent a sudden and inexplicable reversal in his position, and a breach of his commitments to the President and the senator's colleagues in the House and Senate. Just as Senator Manchin reversed his position on Build Back Better this morning, we will continue to press him to see if he will reverse his position yet again, to honor his prior commitments and be true to his word."
This week, Goldman Sachs said that it had reduced its GDP growth predictions following the collapse of the bill.