The UK government's Competition and Markets Authority plans to investigate Nvidia's proposed acquisition of British chip designer Arm later this year.
US chip company Nvidia announced plans to buy Arm for $40bn last October, and claims it will not substantially change Arm's chip licensing business model. The company has also pledged to invest in the UK, etarting with building the country's fastest supercomputer at a Kao Data data center in Essex.
Arm is currently owned by Japanese telco and investment firm SoftBank.
A question of Arm's neutrality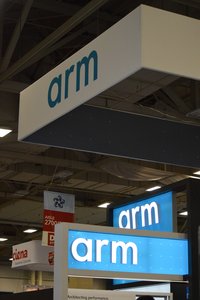 The CMA will look at the deal's possible effect on competition in the UK, and whether "Arm has an incentive to withdraw, raise prices or reduce the quality of its IP licensing services to Nvidia's rivals." The agency called on third parties to comment on the potential impact of the acquisition.
"The chip technology industry is worth billions and critical to many of the products that we use most in our everyday lives," CMA chief executive Andrea Coscelli said.
"We will work closely with other competition authorities around the world to carefully consider the impact of the deal and ensure that it doesn't ultimately result in consumers facing more expensive or lower quality products."
The investigation will be the first global transaction to be reviewed by the CMA since Britain fully left the European Union at the start of this year. UK politicians previously said that they wanted guarantees that Arm UK staff numbers would not go down.
When Nvidia first announced its acquisition plans, it said it expected the regulatory process to take about 18 months.
The company has since gone on a charm offensive to help sway public opinion, promising to build a £40 million ($52 million) supercomputer that it would share with healthcare companies and researchers, a field at the forefront of people's minds amid the pandemic.
The Times reports that UK Prime Minister Boris Johnson and health minister Matt Hancock - both also in need of good publicity - are expected to unveil the supercomputer at a glitzy launch later this year.
"The Cambridge-1 supercomputer will serve as a hub of innovation for the UK, and further the groundbreaking work being done by the nation's researchers in critical healthcare and drug discovery," Nvidia CEO Jensen Huang said in October.
Nvidia said that it will offer its new supercomputer to researchers at GSK, AstraZeneca, Guy's and St Thomas' NHS (National Health Service) Foundation Trust, King's College London, and Oxford Nanopore, among others.