Semiconductor designer Arm is engaged in a public fight with its partially-owned Chinese subsidiary over whether it can fire the division's CEO.
The British-based, Japanese-owned, company said in a statement that it had fired Arm China CEO Allen Wu due to "serious irregularities" - but the news was soon contested by the Chinese company, which claims Arm has no power over hiring and firing.
Arm's Chinese arm arms up for arm wrestle with Arm over Arm China CEO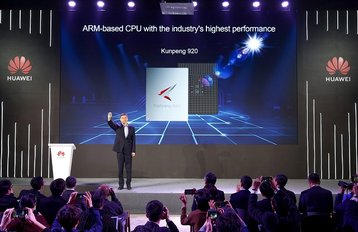 Earlier this week, Arm said that the board of Arm China - which is 49 percent owned by Arm, along with investors including China's sovereign wealth fund - had voted to remove Wu and replaced him with two interim co-CEOs, Phil Tang and Ken Phua.
On WeChat, Arm China said that Wu was still in charge, and that "Arm China is an independent entity and legally registered in China."
Arm Ltd doubled down, releasing a statement jointly issued with Arm China shareholder Hopu Investment: "Following a whistleblower complaint and several other current and former employee complaints, an investigation was undertaken by Arm Limited. Evidence received from multiple sources found serious irregularities, including failing to disclose conflicts of interest and violations of the employee handbook."
But this too has been disputed by Arm China on WeChat, which instead said replacement Phil Tang had been fired last month "due to serious irregularities."
The company continued (translated): "The joint statement made by Arm and Hopu has caused a tremendous negative impact on Allen Wu and Arm China. The company has taken legal actions against persons involved in the matter." It claims that "board meetings that violate the its rules of procedures are not legal and their conclusions should not be supported," and therefore no valid board meetings were held, nor did they "produce effective legal documents that resulted in personnel changes."
SoftBank acquired Arm for $32 billion in 2016. Two years later, it sold 51 percent of its Chinese subsidiary to a consortium that included China Investment Corp., the Silk Road Fund, and Singaporean state investment firm Temasek Holdings Pte.
The internal fight comes amid growing US sanctions against Chinese companies, notably Huawei. Arm, which licenses chip designs to companies rather than developing them itself, is a major supplier to Huawei - via its Chinese arm.