GPU giant Nvidia has agreed to acquire British chip designer Arm from SoftBank for $40 billion.
Unlike Nvidia, which designs and sells its chips, Arm licenses out its designs to other chip companies, including Apple, Qualcomm, and Amazon. This approach means Arm earns significantly less per chip sold, but equally means it ends up in a lot more products.
More than 180 billion Arm-designed chips have been shipped since the company was founded nearly 30 years ago, making it the world's most popular instruction set architecture.
The transaction is expected to close in 18 months, subject to what could be significant regulatory hurdles. Nvidia will pay SoftBank a total of $21.5 billion in common stock and $12 billion in cash, as well as issue $1.5 billion in equity to Arm employees. The remaining $5 billion in cash or common stock is subject to meeting undisclosed financial performance targets by Arm.
RISC taker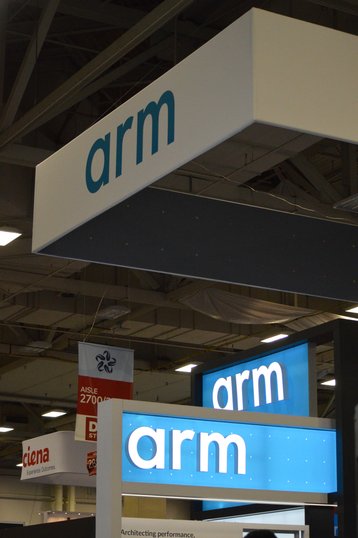 "Arm's business model is brilliant," Nvidia CEO Jensen Huang said in a blog post. "We will maintain its open-licensing model and customer neutrality, serving customers in any industry, across the world, and further expand Arm's IP licensing portfolio with Nvidia's world-leading GPU and AI technology."
Huang added that the company would remain headquartered in Cambridge, UK, and retain its brand identity and management.
"Arm gives us the critical mass to invest in the UK," he said, promising to build a "world-class AI research center in Cambridge" home to an AI supercomputer powered by Arm CPUs. This pledge comes after the UK government said that if it believes a "takeover may represent a threat to the UK, the Government will not hesitate to investigate the matter further, which could lead to conditions on the deal."
In a press briefing, Arm CEO Simon Segars also downplayed comments by Arm cofounder Hermann Hauser that a sale would mean Arm was beholden to Committee on Foreign Investment in the United States regulations. "If [the] hundreds of UK companies that incorporate ARM's [technology] in their products, want to sell it, and export it to anywhere in the world including China - which is a major market - the decision on whether they will be allowed to export it will be made in the White House and not in Downing Street," Hauser told BBC Radio 4.
Not so, Segars claimed. "We develop products in the UK, we develop some products in the US, we develop products through Europe, in India in lots of places around the world," he said.
"And as we consider the export constraints that they are under, we look at what the content is, where it's designed, who designed on it, how many hours of work went into it from who. And that's the criteria that determines which jurisdictions export control rules cover a product. It isn't to do with the ownership of the company.
"So that's something that we pay very, very careful attention to. Because we absolutely have to [follow] all the laws that surround the export of products, and our analysis of that and how our products are affected won't change by having a US parent company."
Despite dominating mobile, Internet of Things devices, and much of the computing world, Arm has repeatedly struggled to break into is the data center server market. While Arm is found elsewhere in a facility, the core CPU of most servers has historically been an x86 chip developed by Intel. In recent years, AMD's Epyc CPUs have gained ground, but they are also x86 products.
There are signs that that stranglehold could be breaking, with this summer alone seeing the debut of the world's most powerful supercomputer boasting Arm chips, a new Arm server, and the unveiling of a 128-core Ampere Arm CPU. Most promising, many in the industry believe, is Amazon Web Service's efforts. Its Graviton processors are relatively powerful in and of themselves, but Arm chip rivals hope that they will help people test the chip architecture cheaply, and boost its software support.
Last year, the instruction set scored another major victory: Nvidia said that it would make its full stack of AI and HPC software available to the Arm ecosystem.
"Arm has been an interesting conversation in high-performance computing (HPC) and the data center space more broadly," Ian Buck, VP and GM of accelerated computing at Nvidia, said at the time.
This year Nvidia also closed its $6.9bn acquisition of networking company Mellanox, and quickly followed the news by announcing that it would swallow Cumulus.