Arm chip startup Ampere has unveiled a new addition to its Altra family of Arm chips, the Altra Max.
The processor, which will begin sampling in the fourth quarter, features 128 cores.
Amped up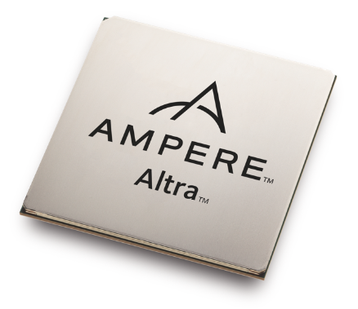 "128 is squarely the highest core count on the market for the foreseeable future," Ampere's SVP of products Jeff Wittich told DCD.
"The reason we're going and talking about this today versus waiting six months on this is the fact that the same platforms that people are designing and deploying right now for Ampere Altra 80 core [which announced in March] - the same platforms are used for the Altra Max processor at 128 cores."
The 64-bit Armv8-compatible Altra Max is based on Arm's Neoverse architecture and fabricated by TSMC using its 7nm process node. "We actually have a 5nm product teed up for 2022, we've taped out test chips for our 5nm product that has a bunch of the key IP and technology on it," Wittich said.
The company hopes its Altra series will find a home amongst hyperscale cloud providers, with Wittich claiming Ampere has "been spending the last couple months doing a lot of benchmarking with the big hyperscalers.
"We've actually been sending out Ampere Altra to many cloud service providers across the US, Europe, China, and working with them on their specific applications and benchmarking."
The company, he said, is "really focused around three main areas that are critical for the needs of the modern cloud, which is a predictable high performance, high availability, and power efficiency."