Nvidia has promised it will build a £40 million ($52 million) supercomputer in Cambridge, England, a month after it said it would buy British chip company Arm for $40bn.
'Cambridge-1' will be used primarily for artificial intelligence research in healthcare, the company said at its GTC 2020 conference. It will launch before the end of the year, ahead of Arm's pending regulatory approval - something that could take 18 months.
Cambridge is also home to Arm's headquarters, as well as the eponymous university, and a significant research community.
Because we need more healthcare research right now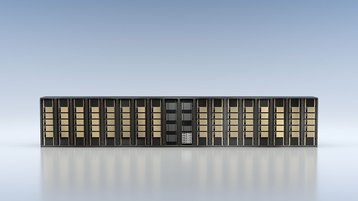 "Tackling the world's most pressing challenges in healthcare requires massively powerful computing resources to harness the capabilities of AI," CEO Jensen Huang said.
"The Cambridge-1 supercomputer will serve as a hub of innovation for the UK, and further the groundbreaking work being done by the nation's researchers in critical healthcare and drug discovery."
The system will feature 80 Nvidia DGX A100 systems combined, for 400 petaflops of 'AI compute,' or eight petaflops of standard Linpack performance. That puts it 29th on the Top500 list of the world's most powerful supercomputers and among the top three most-energy-efficient machines in the Green500, if it were scored today.
Currently, the most powerful supercomputer in the UK is a seven petaflops (Linpack) Cray XC40 used by the Meteorological Office, built for £97m ($126m) in 2014. Earlier this year, the Met Office said it would spend £1.2 billion (US$1.56bn) on a significantly more powerful system, but work won't begin until 2022, with upgrades expected in 2028.
Nvidia said that it will offer its new supercomputer to researchers at GSK, AstraZeneca, Guy's and St Thomas' NHS (National Health Service) Foundation Trust, King's College London, and Oxford Nanopore, among others.
The company said that the supercomputer is not a commercial endeavor, but it will likely serve to help win UK regulatory approval for its proposed Arm acquisition - after concerns were raised about whether the US firm would invest in the country. The supercomputer will also ensure that healthcare researchers use Nvidia platforms, including healthcare application framework Clara, and serves as a marketing tool for the Nvidia SuperPODs that makeup the supercomputer.
"Nvidia's new supercomputer will aid the UK's best and brightest to undertake research that will save lives," said Matt Hancock, Britain's health minister.