The UK will spend £1.2 billion (US$1.56bn) on building the world's most powerful supercomputer dedicated to weather and climate.
The system, set to begin its first phase in 2022, will be operated by the country's national weather service, the Met Office. It will replace the current Cray XC40 supercomputer, built for £97m ($126m) in 2014.
The news comes as the UK suffers from the impact of the destructive Storm Dennis, which came just a week after Storm Ciara.
Super forecasters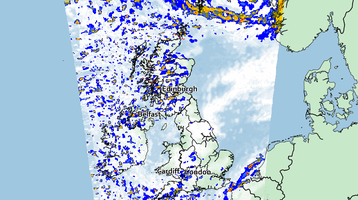 "Over the last 30 years, new technologies have meant more accurate weather forecasting, with storms being predicted up to five days in advance," Business and Energy Secretary and COP26 President Alok Sharma said.
"Come rain or shine, our significant investment for a new supercomputer will further speed up weather predictions, helping people be more prepared for weather disruption from planning travel journeys to deploying flood defenses."
Professor Penny Endersby, Met Office Chief Executive, added: "This investment will ultimately provide earlier more accurate warning of severe weather, the information needed to build a more resilient world in a changing climate and help support the transition to a low carbon economy across the UK.
"It will help the UK to continue to lead the field in weather and climate science and services, working collaboratively to ensure that the benefits of our work help government, the public and industry make better decisions to stay safe and thrive."
The specifics of the system were not detailed. The government said that the first phase will be six times more powerful than the Met Office's existing system, and the second phase (2028) will expand it a further threefold. With the current system capable of 16 petaflops, that suggests a 96 petaflops supercomputer, followed by a 288 petaflops upgrade.
The cost of the system was originally expected to be revealed on February 28, tender documents note, although it is possible the government pushed the date forward due to the ongoing storms.
Separately, the government announced £30m ($39m) in funding to support seven high-performance computing services run by universities, including Queen's University Belfast, the University of Edinburgh, and Durham University.