Uber Technologies has signed two major cloud contracts and plans to completely close its own data center infrastructure.
Over 95 percent of its IT is currently housed in its own data centers, but it will now move to Google Cloud and Oracle in two seven-year contracts.
The ridehailing and delivery company spent 11 months evaluating cloud companies, and decided that multiple providers reduces risks and allows for the company to take advantage of the specific advantages of different cloud providers.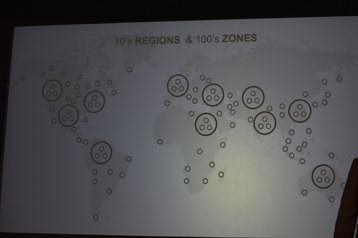 With Google, beyond the core cloud computing contract, Uber will use Google's mapping service for routing its vehicles, and Google's advertising product for its fledgling ads business.
"We look forward to expanding our collaboration with Uber to deploy our cloud infrastructure, artificial intelligence, data analytics, and edge networking solutions," Sundar Pichai, CEO of Google and Alphabet, said. "This partnership is bringing together the best of Google technology across Cloud, Maps, Ads and more to help Uber continue to improve the customer experience for their users."
As for Oracle, Uber will use the company's cloud-based enterprise resource planning system and other database products for its freight business.
"Uber is expanding into a 'go anywhere, get anything' platform, and the company needed a cloud partner that shares a relentless focus on innovation," said Oracle CEO, Safra Catz.
"This landmark competitive win for [Oracle Cloud Infrastructure] is further validation of the momentum and acceleration we are experiencing in the market. Enterprises, governments, and startups around the world are recognizing the differentiation of OCI and experiencing our performance, security, and economic benefits versus other hyperscalers."
Uber acquired a Colorado data center from Microsoft in 2015, along with 100 employees.
In its Initial Public Offering in 2018, Uber said that it spent $221 million on office and data center rent expenses in 2018, as well as Google Cloud and Amazon Web Services cloud compute.
The company said that it operated a 'tripod strategy' with base colocation for its primary compute and cloud computing services to help it scale.
Its colocation deployments were detailed by Uber Compute head Dean Nelson who, at DCD>London 2018, explained that the company aims for 576-rack, 5MW data center leases.
"Every server has a 25Gbit network," Nelson said. "16 racks make a pod. We then have 30 pods, making 480 cabinets."
That 480 is then bumped up further, with 32 racks for network and 64 racks for miscellaneous extras, "because we never know what's going to happen," leading to a total of 576 racks. The company uses four types of rack: compute, database, storage (tiered storage with warm and cold), and GPUs for machine learning.
However, those data centers will slowly be closed. Data will be moved to the cloud, and leases at colocation data centers will not be renewed. It is not known how many jobs are at risk.
The Uber news is the latest company to go all in on the cloud, including FedEx's claim it would save $400 million by closing its data center footprint, and recent cloud moves by Deutsche Börse, BBVA, Guitar Center, and Zurich Insurance Group. But at the same time, enterprises have noted the high profits of cloud companies, and the even higher costs of taking data off of the cloud, including Dropbox and 37signals. Last year, JP Morgan said it would spend billions on data centers as it bet heavily on in-house compute.