JPMorgan spent $2 billion on new data centers in 2021, despite a continued move to get its IT into the cloud.
The US finance giant spent $12 billion on technology in 2021, and plans to increase that further by eight percent in 2022, it revealed in an earnings call last week which prompted criticism from analysts, and a small drop in its share price, according to the Financial Times. Executives on the call explained that the investment was needed to provide data centers and cloud services enabling it to expand into new markets like the UK.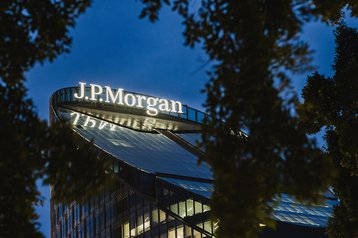 Pushed by analysts on the call, chief executive Jaimie Dimon explained that even though the company is moving to the cloud, it needs to keep opening new data centers - and still keeping its old data centers running.
Cloud-ready apps
"We spent $2 billion on brand-new data centers, OK, which have all the cloud capability you can have in private data centers and stuff like that," said Dimon, in response to a question from Mike Mayo of Wells Fargo Securities. "We're still running the old data centers."
He said that the investment in new data centers was mostly on applications, which would be ready to move to the cloud: "All this stuff going to these new data centers, which is now completely up and running, are on apps. Most of the applications that go in have to be cloud-eligible. Most of the data that goes in has to be cloud eligible."
The bank has multiple cloud capabilities and is running a lot of major programs on Amazon Web Services (AWS), but also has some on Google and Microsoft, he said: "We want to have multiple cloud capabilities."
Between 30 and 50 percent of the company's apps, and all its data, would be moving to "cloud-related type of stuff," said Dimon: "This stuff is absolutely totally valuable," he said praising the power of the cloud and big data to deal with "risk, fraud, marketing, capabilities, offers, customer satisfaction, do with errors and complaints, prospecting, it's extraordinary."
Asked to give more detail on the technology expenditure, Dimon said the company's credit card business runs applications on a mainframe in an old data center which are going to be moved to the cloud: "Card runs a mainframe, which is quite good," he said. The mainframe handles 60 million accounts efficiently and economically, and has been updated recently, he said: "But it's a mainframe system in the old data center."
Moving to the cloud is not about savings, he said: "When it gets modernized, to the cloud, the cost savings by running that and marginalizing it will be $30 million or $40 million a year. I want the $30 million. [But] that isn't the reason we're doing it."
In the cloud, the data can be fed to applications looking at its risk, marketing, fraud, and real-time offers." These can be added more rapidly, than on a mainframe which can only be modified occasionally: "You touch a mainframe system, you've got to be a little careful when you go into it to make some modifications. In the old days, you used to modify that mainframe system four times a year. Now you can go in and modernize a little piece of it every week, every day."
Dimon has been CEO at the bank since 2005, and has a reputation for cost control according to the FT, but when he told analysts that the bank would need to "spend a few bucks" to beat the competition," he also said that "it's hard to quantify the benefits and the cost."
This admission that went down badly with Mayo, who downgraded the bank, saying: "Even Jamie Dimon, one of the best bankers of his generation, doesn't get a free pass to increase investment spending by half over three years without giving more granularity about expected benefits."
Want to learn more? Register for our DCD>Inside Financial Services broadcast series: