Documents released ahead of Uber's debut on the stock market provide some insights into the company's data center costs.
The transportation company pursues a hybrid cloud and colocation model that allows it to scale rapidly across the world, something it calls 'the tripod strategy.'
Globe-spanning (except China)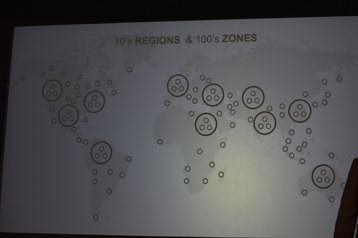 "We use a combination of third-party cloud computing services and co-located data centers in the United States and abroad," the SEC filing notes. "We do not control the physical operation of any of the co-located data centers we use or the operations of our third-party service providers."
While not revealed in the filing, an Uber spokesperson confirmed separately that the company uses both Google Cloud Platform and Amazon Web Services, with roughly $58 million spent on Google Maps usage over two years. Its colocation deployments were detailed by Uber Compute head Dean Nelson who, at last year's DCD>London event, explained that the company aims for 576-rack, 5MW data center leases.
"Every server has a 25Gbit network," Nelson said. "16 racks make a pod. We then have 30 pods, making 480 cabinets."
That 480 is then bumped up further, with 32 racks for network and 64 racks for miscellaneous extras, "because we never know what's going to happen," leading to a total of 576 racks. The company uses four types of rack: compute, database, storage (tiered storage with warm and cold), and GPUs for machine learning.
The filing continues, noting the inherent risks of data centers, and adds "our systems do not provide complete redundancy of data storage or processing, and as a result, the occurrence of any such... unanticipated problem may result in our inability to serve data reliably or require us to migrate our data to either a new on-premise data center or cloud computing service. This could be time consuming and costly and may result in the loss of data."
This is something that has happened: "For example, as a result of an error with one of our routine maintenance releases in February 2018, we experienced an outage on our platform for 28 minutes, resulting in Drivers, consumers, restaurants, shippers, and carriers being unable to log on to our platform in major cities, including Las Vegas, Atlanta, New York, and Washington D.C."
Further details are given on the company's data center expenditure: "Office and data center rent expense was $110 million, $194 million and $221 million for the years ended December 31, 2016, 2017 and 2018, respectively."
The filing reveals that Uber spent $75 million more on data center equipment in 2018 than it did in 2017, and $87 million more in 2017 than 2016 - although the total expenditure is not known.
Elsewhere, we learn that Uber's exit from China also cost it: "Certain data center assets were not sold to Didi, but rather to another third party after being used for a period of four months to support Uber China's operations... an impairment charge of $80 million was immediately recognized, and... in addition, $48 million [in costs] resulting from the early termination fee of the data center services in China [occurred]."
In total, the company lost roughly $8bn over the course of its operations, but has amassed some 91 million users globally.