Two-phase liquid cooling, which promised to increase the efficiency of high-performance computing (HPC), may face a difficult future, due to concerns over the chemicals involved, and 3M's withdrawal from the market. Chip manufacturing will also be affected.
Late last year 3M announced it would phase out Novec, a chemical used in coolants and semiconductor manufacturing, by 2025. Other sources of two-phase coolants will also be under pressure as last week the US Environmental Protection Agency (EPA) announced it had classified some PFAS substances, or "forever chemicals", as hazardous substances, adding greatly to the difficulties involved in using them.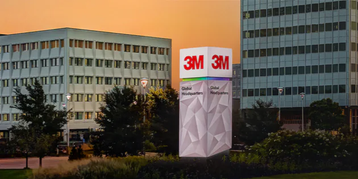 On December 20, 3M announced it would phase out poly-fluoroalkyl substance (PFAS) manufacturing (along with perfluoroalkyl) from its product line by 2025, because of increasing concerns over their safety.
During 2022, 3M's major plant for producing PFAS chemicals in Belgium was closed, following the revelation that it had been dumping harmful chemicals at hundreds of times the EU's safe levels for decades. After previously refusing to comment on the future of the plant, and the Novec and Fluorinert chemicals it makes, 3M's announcement means they will eventually cease to be produced.
Novec and Fluorinert are used in fire prevention, semiconductor manufacturing, and two-phase liquid cooling, but are also known as "forever chemicals" because they do not break down when released into the environment, and can build up within people and animals over time.
Two-phase cooling is a version of liquid cooling in which the coolant is allowed to boil and condense (changing its phase), removing heat more effectively than simply using heat conduction. The ruling should not affect single-phase immersion cooling providers like Iceotope, Submer, and GRC, because single-phase cooling can be carried out with less environmentally-damaging fluids such as mineral oils, or even plant-based oils.
Two-phase cooling vendors include Zutacore, LiquidStack, and Wiwynn, all of whom reference 3M Novec in their materials.
LiquidStack CEO Joe Capes says that the withdrawal of 3M will have a limited impact on his business, and the semiconductor business will suffer more: "Firstly, it's important to note that 3M's announcement primarily affects the semiconductor industry, as these fluids are used in the etching process for global semiconductor manufacturing," Capes told DCD. "It comes at a precipitous time, as the USA is trying to wean itself from dependence on China for semiconductor production. Make no mistake, this is the primary impact of the announcement on the data center industry."
LiquidStack already has better alternative chemicals available for cooling, he said: "There are several fluid vendors who manufacture generic versions of 3M's fluids and thankfully these options have been available for quite some time. Further, LiquidStack has been testing advanced alternative fluids independently and with our customers over the last two years with results that outperform 3M's fluid portfolio. This leads to optimism that the impact of 3M's announcement is relatively small for LiquidStack and there are better options we have been offering for quite some time."
Asked for more information on these replacement chemicals, and whether they may also be affected by PFAS regulations, Capes referred us to a list of suppliers including saying Solvay, Chemours, Honeywell, and Envirotech. Of these, we noted that Solvay's cooling product Galden is a Novec replacement, which is also a PFAS.
DCD has also contacted Zutacore.
Hazardous substances
3M says it is phasing out PFAS because of increasing regulations on the use of PFAS, and the effect this is having on demand for the products.
The EPA published findings in March 2022, which suggested that PFAS may affect human reproduction and development, harming the immune system and increasing the risks of some cancers. The European Chemical Agency (ECHA) has published similar findings
The EU has indicated it wishes to potentially restrict all PFAS chemicals by 2025. This week, the EPA classified PFAS as hazardous substances, which means they can still be used - but companies face stringent rules on waste management and reporting on leaks. Tighter rules may be coming, and the EPA has issued a set of PFAS analytic tools to access information on sources and dangers of PFAS; as well as taking steps to prevent companies from resuming the manufacture of older PFAS chemicals that have been phased out.
3M notes that regulators elsewhere, including in Canada, Australia, and Asia are also starting to take notice of the risks of PFAS.
Faced with this prospect, 3M has evidently realized there won't be a great market for PFAS: "Customers and consumers are increasingly interested in alternatives to PFAS," it says, adding that investors have also "weighed in" on the subject.
The company says that PFAS chemicals are "essential for modern life", however, so for now they can continue to be "safely made and used". It also makes no comments on what could replace PFAS, though the company ends its announcement with a promise that it is "always working to build what's next for our customers and communities".
Motivair, a supplier of air-conditioning and cooling systems, points out in a blog that the loss of PFAS would not affect the single-phase cooling systems it has in its own portfolio. However, LiquidStack's Capes believes that 3M fluids are in use by many direct-to-chip and immersion liquid cooling suppliers: "the announcement has a limited effect on all liquid cooling approaches. "
Motivair's blog suggests that large cloud providers may now shy away from two-phase cooling. Microsoft has partnered with Wiwynn to test two-phase cooling, but it also has set itself stringent environmental goals.
"The largest consumers of IT equipment with names like Amazon, Google, Microsoft, and Meta, to name a few, are committed to self-imposed Environmental, Social, and Corporate Governance goals (ESG)," said Motivair. "For investors and Board of Directors, using PFAS in any form presents unwanted risk and is against the intent of most ESG initiatives."
DCD has asked 3M for clarification about the phase-out and replacement of PFAS chemicals including Novec.