A shortage of 3M Novec and other specialist coolant fluids will hurt semiconductor production and two-phase immersion cooling systems, after pollution forced 3M to temporarily cease production of coolants at its factory in Belgium.
Because of high levels of toxic chemicals around the the Zwijndrecht plant, 3M was forced to cease production of the two coolants 3M Novec and 3M Fluorinert there. Although the Flemish government has now granted 3M permission to restart production, the chemicals are likely to be in short supply, and prices will rise. 3M's costs are $581 million so far, but likely to rise substantially.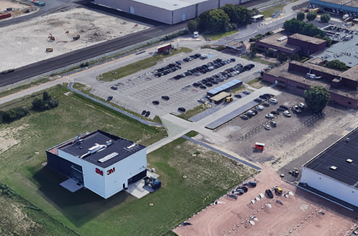 DCD has asked 3M to clarify when (and if) production of coolants will resume at the factory, but the company has so far not told us.
Not so clean
The 3M coolants are essential for the etching process used to make semiconductors, according to a report from supply chain monitoring firm Resilinc. They are also used in two-phase cooling systems from companies including Zutacore and LiquidStack. The coolants themselves are widely claimed as environmentally harmless, as they have low global warming potential, but they have a different impact, and it turns out that the manufacturing process is not so clean at all.
Novec and Fluorinert are both polyfluoroalkyl substances (PFAS) which are known as "forever chemicals" because they persist in water and soil. European scientists have found these have health impacts including cancer liver disease and thyroid disease. Tests around the 3M plant have found alarming levels of worse PFAs, which are byproducts of the coolant manufacture, or previous products. Unsafe levels have been found in soil, plants, animals, and virtually all local residents' bodies.
According to a Bloomberg report, residents near the plant were found to have up to 1,100 micrograms of PFOS (perfluorooctanesulfonic acid) in their bloodstreams, which is around 200 times the level recommended as safe today by the European Union. PFOS is a chemical used in fire retardant foam, which was manufactured in the 3M plant till 2002. The levels of pollutants were uncovered during excavations for a road tunnel project which was abandoned.
Both the EU and the US are moving to restrict production of PFAS, and Belgian regulators demanded 3M reduce production and cut discharges at the plant two years ago. 3M responded with a reduction and appealed against the tighter regulations. In March, the appeal failed, and the factory was forced to close completely.
Since then, 3M has announced a remediation effort, and now has permission to reopen the plant under certain conditions. These include a €571 million ($581 million) payment to the government, which is only really a down payment, as the company still has to address human health damage.
Zuhal Demir, the Flemish environment minister. has said the agreement is "open-ended". Some possible remediation efforts may involve removing up to 5 ft of topsoil, adding up to 14 million cubic meters, and compensating residents for the disruption.
According to the Resilinc report - which came out before the agreement of the remediation package - 3M's plant was making around 80 percent of the world's Novec and Fluorinert coolants; ten percent more comes from a 3M plant in the US, while the remaining ten percent comes from a Solvay plant in Italy, according to Inside HPC. When the factory closed in March, 3M warned semiconductor makers including SK Hynix, Intel, and TSMC of impending shortages. At the time, the chip makers were reckoned to have enough coolant to keep etching for one to three months, Resilinc says.
The production difficulties are likely to continue, and increase. 3M was granted permission to reopen in June, but said at the time that it would take several weeks to restart.
New European regulations could be published in January 2023, and come into effect in 2025. Belgium is urging an EU-wide ban on PFAS chemicals. Meanwhile, the US Environmental Protection Agency (EPA) is also considering action.
Restrictions on PFAS could also affect other refrigerants including HFC and HFO.
In response to a request from DCD, 3M said that some manufacturing is continuing at Zwijndrecht: "We are running non-PFAS related manufacturing and working to re-start previously idled PFAS-related manufacturing processes," said a statement.
"As a leading provider of specialty fluids, including heat transfer fluids used in semiconductor applications, we take these matters seriously," said the statement. "3M is working to address operational disruptions at one of our Belgian facilities impacting some of our products. However, the timeline to resolve the situation is uncertain and, in several aspects, not in 3M's control. We have communicated with our customers about the potential for disruption."
Back in March, 3M CEO Mike Roman said in a press release: "We continue to advance and operate non-PFAS related manufacturing there, while working to get more PFAS-enabled manufacturing processes up and running in compliance with local safety measures. In addition to leveraging our global manufacturing footprint to deliver for our customers, we have also put in place new controls in Zwijndrecht, including technology to control air emissions, and capture, dispose, and treat PFAS in water."
Meanwhile, 3M is maneuvring to get lower thresholds on some chemicals, claiming on its website that it supports "science-based PFAS management". The company says "because PFAS encompasses several thousand substances with different chemical structures, it is not scientifically appropriate to consider them as a single group.
3M says it is "committed to actively engaging regulatory authorities globally in important dialogue about these products to help promote science-based regulatory measures related to 3M's solutions, which are used in important business and industrial settings."
Immersion optimism
Data center immersion cooling providers have so far played down the impact on their business.
Iceotope, which originally used Novec, can use multiple coolants, said Jason Matteson, director of product strategy: "Iceotope Technologies precision immersion cooling solutions are developed to be dielectric agnostic. This enables our customers to mitigate supply chain risks by giving choice and diverse sources for dielectric fluids. To meet the ESG concerns of the data center industry, we continue to work closely with a range of dielectric fluid suppliers to ensure liquid cooling can deployed with the lowest environmental impact. This includes fluids which have zero GWP, are biodegradable and non-toxic. "
LiquidStack also has a choice of coolant fluids, CEO Joe Capes told DCD in an email: "Save one or two projects where a particular fluid was desired by our customers, we have not seen a major impact.  In general however, there are increasing lead times across various components of our upstream supply chain caused by global conditions."
Liquid cooling companies are not the only ones suffering at the moment, he pointed out, referring to the shortage of fans in the air-cooling sector: "If you compare this to the 45 to 62 week lead times we are hearing about from Ziehl-Abeg and EBM Pabst for CRAC/CRAH/CAHU fan supply, LiquidStack feels pretty fortunate overall."
Update: DCD asked 3M for more details about this story, looking for information on the important issues of when (and if) the company will resume production of coolants.
Instead, the company's response so far has been to tell us that the factory was only "partially closed," not "fully closed," as non-PFAS production continues. This information could be interesting, if 3M would tell us what these non-PFAS products are, but so far the company has not been able to tell us.
More in IT Hardware & Semiconductors