A $1bn New Albany data center project has been halted for anti-bias training after racist graffiti was found on the site.
Turner Construction said that pausing work on Facebook's Ohio facility would "send a message about how seriously we take this behavior," and that every person on site would receive training. The move comes after two other Turner data center sites were home to racist incidents in recent months, along with several other Turner projects.
Zero tolerance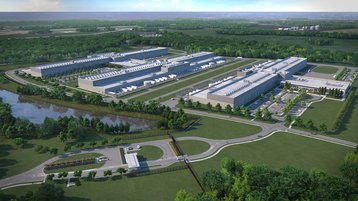 New Albany police were called to 1500 Beech Road on 3 August due to racist graffiti on six portable toilets throughout the site.
The police report, which did not disclose the nature of the graffiti, estimated damage at $600. Racist graffiti was also found this month at Turner's FC Cincinnati construction in Ohio, where the company also paused work for training.
"Turner Construction Company has a zero tolerance for racism and hate," the company said in a statement. "We will continue to collaborate with our clients, trade partners and unions to make clear to every person on-site how important it is to have a work environment free of racism and hate and where all people feel welcomed and treated with respect."
In June, police were called to Facebook's Iowa data center development, where a noose was found. Construction trade groups are currently offering a $100,000 reward for information on the incident. Just two days later, a racist song was played over the radio at a nearby Microsoft data center. Both are Turner Construction projects.
"It is extremely disheartening to see that even in our own data center industry we are seeing acts of racism and hatred on our job sites," Microsoft's GM of global data center execution, Douglas Mouton, said last month at DCD's virtual Building at Scale event.
"Here in the US, we're going through a period of reconciliation with decades, if not centuries, of racism that we're having to take head-on, and it's a difficult time for us," Mouton said.