Just two days after a noose was found at a Facebook construction site in Iowa, a racist song was played over the radio at a nearby Microsoft project.
Both were Turner Construction developments, which called the incidents "despicable and unacceptable acts of hate." Both projects also involved other contractors. Microsoft has told DCD it is working to ensure that action is taken.
"It is extremely disheartening to see"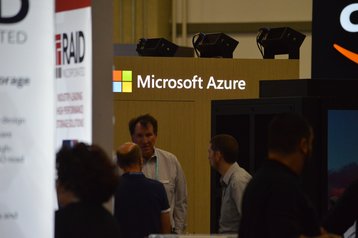 "We are working vigorously to ensure the perpetrators of these hateful acts face the consequences of their actions," a Turner spokesperson told DCD.
"Turner has launched investigations into these events and anyone found responsible shall be removed from the site, and as appropriate, referred to local authorities for criminal prosecution. In each case Turner stopped work on site to send the clear message that harassment of any kind will not be tolerated on our projects. Every worker is encouraged to speak up and tell their supervisor or make an anonymous report if they witness a bias-motivated act.
"Turner stands for equality, inclusivity, and respect. We work extremely hard and in close collaboration with our trade partners to ensure that our job sites are safe places that are accepting, caring and welcoming to all people."
West Des Moines Police did not return requests for comment, although Microsoft confirmed that local authorities were notified. A Microsoft spokesperson told DCD: "We are aware of the recent act of racism at our construction site in Des Moines, IA. We do not condone racism in any form and are working directly with Turner to ensure that action is being taken."
The Facebook noose incident is separately under investigation by the Altoona Police Department, which called it a "disturbing offensive act will not be tolerated, and it's upsetting to everyone involved."
In a talk this week at DCD's virtual Building at Scale event, Microsoft's GM of global data center execution, Douglas Mouton, talked in more detail about the two events, as well as other incidents in the wider construction industry.
"Here in the US, we're going through a period of reconciliation with decades, if not centuries, of racism that we're having to take head-on, and it's a difficult time for us," Mouton said. "It is extremely disheartening to see that even in our own data center industry we are seeing acts of racism and hatred on our job sites. On our job site in Iowa, next to this Facebook data center under construction - two days later we had a racist act on our site as well. This is impacting everyone and it's a call to action for us to think how we as leaders take this head-on."
While the US is facing serious issues of unaddressed racism, Mouton noted that the nation is not alone. "It may not be a Black-White issue in other parts of the world, but we certainly see the same human dynamic occurring over and over. So this call to action about human dignity and equity on our job sites, and diversity and inclusion are universal truths for our entire global portfolio."
He also noted construction site abuse in sectors besides data centers, in countries including Brazil, Abu Dhabi, Russia, and Qatar. "What is the worker experience? Is their welfare looked after? Are we preserving their dignity? Do they have a place to sleep that is adequate? Many times this is not the case. There are many situations where the construction industry is not doing right by the workers relative to taking care of their welfare and basic accommodation."
The aim for Microsoft, and the data center industry as a whole, should be to reimagine the stereotypical perception of the construction industry that is macho, sexist, and 'thick-skinned,' to one "where we're allies for diversity, [creating] psychologically safe, emotionally safe places for all of our workers. Where we're respectful of differences, we're aware of differences, we're creative in how we help each other, we make people feel inclusive, and secure to go to work there. That is absolutely what we aspire to."