SoftBank has conducted a successful sub-scale model flight of its new High Altitude Pseudo-Satellite (HAPS) platform.
The company this week said that it conducted the low-altitude flight test using a sub-scale model (a small-scale version of an actual aircraft) on March 14, 2023, in Willcox Playa, Arizona.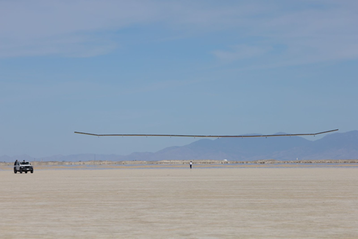 SoftBank said that it collected the data necessary for flight verification and aircraft design as part of its HAPS development.
The current version of Sunglider, developed by SoftBank's subsidiary HAPSMobile and AeroVironment Inc., successfully reached the stratosphere during a test flight conducted in September 2020.
The companies are now developing the next-generation Sunglider, and conducted these sub-scale tests to verify designs and structural characteristics. The findings from this test flight will be used in the full-scale unit's development.
"By creating multiple sub-scale models that replicate the shape and characteristics of the full-scale next-generation candidate aircraft and conducting repeated flight tests, we were able to obtain crucial data on next-generation design and control policies that could not be otherwise obtained from computer-based simulations," said Junichi Nakajima, director of SoftBank's Advanced HAPS Research Office and SVP of HAPSMobile's Technology Administration Division. "We will continue our efforts to develop aircraft and foundational technologies to realize commercial HAPS-based stratospheric telecommunication services."
HAPS – whether airships, balloons, or fixed-wing drones – offer a way to provide connectivity to rural and unconnected areas without the upfront costs of cell towers or satellites or the need for specialist receivers. These unnamed drones aim to be capable of providing coverage over wide areas for months at a time.
SoftBank is in the process of absorbing HAPSMobile – set up in 2017 in conjunction with US military drone firm AeroVironment – into the company and dissolving the unit while still continuing platform development.
SoftBank has also invested across a number of other sky-based companies; as well as HAPS, it has investments in both Low Earth Orbit (LEO) and Geosynchronous Earth Orbit (GEO) satellite firms and even aerostats (tethered blimps). The company was also an investor in Google's high-altitude Loon project– and acquired some of the unit's patents in the wake of its closure.