OneWeb has received $1.2 billion from SoftBank and existing investors to fund a high volume satellite production facility ahead of its plans to provide high speed Internet to developing countries from space.
The startup, previously known as WorldVu, has plans for a constellation of 720 Low Earth Orbit (LEO) satellites that will provide a global network by 2022.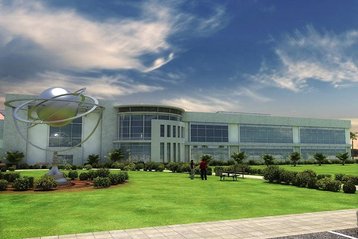 The next three billion Internet users
"SoftBank has a long history of investing in disruptive, foundational technologies that promise to help us realize the future sooner. OneWeb is a tremendously exciting company poised to transform Internet access around the world from their manufacturing facility in Florida," Masayoshi Son, Chairman and CEO of SoftBank, said.
"Earlier this month I met with President-Elect Trump and shared my commitment to investing and creating jobs in the US. This is the first step in that commitment. America has always been at the forefront of innovation and technological development and we are thrilled to be playing a part in continuing to drive that growth as we work to create a truly globally connected ecosystem."
Son met Trump on December 6, where he pledged $50 billion of investments in the US that he said would create 50,000 jobs. 
At the time, Trump took credit for the investment, tweeting: "Masa said he would never do this had we (Trump) not won the election!"
However, prior to the election, SoftBank had previously announced plans for a $100 billion investment fund created in partnership with Saudi Arabia's sovereign-wealth fund, as well as other investors that may soon include Apple. Son confirmed to the Wall Street Journal that the $50bn pledge, of which the OneWeb investment is the start, comes from that existing fund.
But Son is likely happy for it to seem like the investment was due to Trump, as presistent stories say Son wants to merge Sprint, the company he has a controlling interest in, with T-Mobile. Previously, regulators signaled that they would oppose such a move, but under Trump, it is unclear how strictly regulations will be enforced.
Greg Wyler, the founder of OneWeb, said: "I have long admired Mr. Son's track record and his vision for the future of a technologically-powered world. I am honored to welcome SoftBank as a long-term investor and strategic partner. SoftBank's investment underscores the evolution and continued success of our company and accelerates our strategic growth plan.
SoftBank will own 40 percent of OneWeb, becoming its biggest shareholder, and SoftBank Director Ronald Fisher will join the startup's Board of Directors.
Wyler continued: "We look forward to working together as we execute on our mission to build a global knowledge infrastructure that provides affordable broadband to the over four billion people across the globe without Internet access."
The billion dollars from SoftBank, and $200 million from existing investors including Qualcomm, Airbus, Bharti Enterprises, Hughes Network Systems, Intelsat, Coca-Cola, Virgin, and Totalplay, will bring around 3,000 jobs.
The new facility, to be built in Exploration Park, Florida, plans to open in 2018 and expects to produce 15 satellites per week. Its space network, which will add 10 terabits/s of capacity, will extend the networks of mobile operators and Internet service providers (ISPs) around the world.
Competition
But OneWeb is not alone in its plans to provide Internet from space. 
O3b, founded by Wyler before he left for OneWeb, currently operates 12 satellites, with plans to increase that to 20. Backed by SES, Google, HSBC, Liberty Global and others, the company provides Internet services to small islands, cruise ships, the US government and - to a limited extent - Pakistan and Nigeria.
Perhaps more ambitious is Elon Musk's plan for his company SpaceX to operate some 4,000 satellites. After originally planning to partner with Wyler, Musk struck out on his own (along with a $1bn investment from Google and Fidelity), opening a  satellite development facility in Redmond, Washington, last year. However, Musk has said that he does not wish to overextend SpaceX - which has recently delayed its plans for manned launches due to a rocket explosion - and in 2015 said that the proposal was in its early stages.
Also of note is Laser Light Communications. While the satellite companies discussed here are Ku or Ka-based and aim to provide consumer-level speeds to millions or billions, Laser Light uses free space optics technology that is more akin to submarine cables. The company has partnered with Equinix to trial sending traffic from data center to data center, but for the full run down, be sure to subscribe to the DCD magazine, as our next issue takes a look at the world of laser Internet in detail.